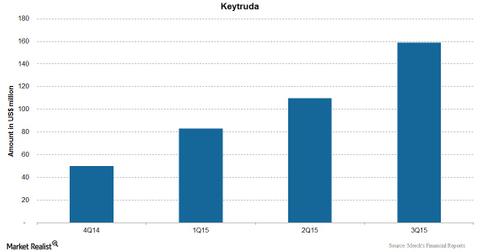 Keytruda: Hope for Merck's Immuno-Oncology Franchise
By Mike Benson

Updated
Keytruda  
Keytruda is a prescription medicine. It's in Merck & Co.'s (MRK) immuno-oncology franchise. The drug treats non-small cell lung cancer as well as melanoma—a type of skin cancer. Merck launched Keytruda in 4Q14. Its global sales for 3Q15 were ~$159 million—45% growth compared to 2Q15.
Article continues below advertisement
Uses  
Keytruda treats melanoma. It treats cancer has spread as well as cancer that isn't surgically removable—advanced melanoma. It's an option if the medicine ipilimumab didn't work or isn't working anymore. Keytruda is an option when the tumor has an abnormal "BRAF" gene and the BRAF inhibitor didn't work.
Keytruda also treats non-small cell lung cancer when it has spread. It's an option if the cancer tests positive for "PD-L1" and chemotherapy containing platinum doesn't work. It also helps if the tumor has an abnormal "EGFR" or "ALK" gene and EGFR or ALK inhibitors didn't work.
Geographical reach
In the US, Keytruda has ~70% of anti-PD-1 patient share in melanoma. It's the number one therapy for melanoma in the US across all of the treatment classes.
For markets outside the US, Keytruda is launching in around 40 markets including the EU (European Union). It's approved for advanced first-line and second-line melanoma in the EU.
More developments
Keytruda is undergoing one of the broadest clinical programs in oncology. It has clinical studies for over 30 different types of tumors. During 3Q15, the following developments took place for Keytruda.
The FDA (US Food and Drug Administration) approved Keytruda's sBLA (supplemental biologics license application) for the treatment of previously treated patients with metastatic NSCLC (non-small cell lung cancer) whose tumors express PD-L1.
The Keynote-010 study showed superior overall survival compared to chemotherapy in patients with NSCLC whose tumors express PD-L1. Merck plans to provide regulatory submissions based on the data to the FDA by the end of 2015 and to the European Medicines Agency in early 2016.
The National Institute of Health and Care Excellence in the United Kingdom issued a draft recommendation for Keytruda as a first-line treatment option for adults with advanced melanoma. It also issued its final guidance recommending Keytruda for patients who have already undergone treatment with ipilimumab.
The FDA accepted to review an sBLA for Keytruda for the first-line treatment of unresectable or metastatic melanoma. The priority review with a PDUFA (Prescription Drug User Fee Act) action date granted is December 19, 2015.
The data from the Keynote-028 study were presented at the European Cancer Congress. Its use is being investigated in multiple tumor types.
During 3Q15, the company announced or initiated more than 25 registration studies for Keytruda in more than ten tumor types.
Overall, Keytruda's clinical development program studies more than 30 tumor types in more than 160 clinical trials. This includes over 80 combinations of Keytruda with other cancer treatments.
Merck competes with Bristol-Myers Squibb (BMY), AstraZeneca (AZN), AbbVie (ABBV), and Pfizer (PFE) over a different product mix. Investors can consider ETFs like the VanEck Vectors Pharmaceutical ETF (PPH) and the Vanguard Healthcare ETF (VHT) to divest the risk.