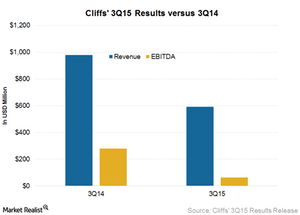 Key Highlights of Cliffs Natural Resources' 3Q15 Results
By Anuradha Garg

Nov. 3 2015, Published 7:10 p.m. ET
Revenues lower in 3Q15
Cliffs Natural Resources (CLF) reported revenues of $593 million for 3Q15, a decline of 39% year-over-year (or YoY). A decline in revenues impacted the company's EBITDA (earnings before interest, taxes, depreciation, and amortization) negatively, as the cost of goods sold decreased by only 26% YoY.
Cliffs reported a net loss of $15 million, which translates into a loss per share of $0.10.
Article continues below advertisement
Reduction in costs
Cliffs Natural Resources' SG&A (selling, general, and administrative) expenses amounted to $22 million for 3Q15, a decrease of 55% YoY. This reduction is mainly due to the previous year's proxy contest as well as the change in control and severance-related expenses. SG&A expenses were also favorably impacted by lower staff costs and reduced external services spending.
As we'll see later in the series in more detail, Cliffs has considerably reduced its per-unit costs for both its Asia-Pacific iron ore segment and its US iron ore segment in 3Q15. The cost reductions were above market expectations.
DR production
Cliffs management stated during the conference call that they have completed production of the first industrial-sized trial round of 60,000 tons of direct reduced (or DR) grade pellets on Minnesota's North Shore. Management also sounded hopeful on the demand opportunity from electric arc furnace steelmakers for alternative iron ore units. They maintained, however, that with the current market conditions of cheap iron ore and scrap prices, it might not be the best time to justify investments in this space.
Other companies in the iron ore segment, Rio Tinto (RIO), BHP Billiton (BHP) (BBL), and Vale SA (VALE), also released their 3Q15 production results in October. All of them reported an increase in production shipments. This is due to the increase in seaborne supply coupled with a weaker demand, which has resulted in seaborne prices coming under increased pressure.
The SPDR S&P Metals and Mining ETF (XME) is another way for investors to get exposure to the metals and mining space without picking individual companies. Cliffs Natural Resources forms 3% of XME's holdings.
In the next part of this series, we'll talk about why Cliffs downgraded the volume for its US iron ore division.