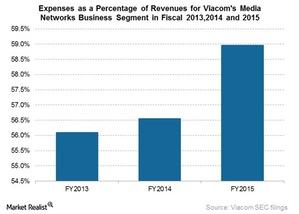 What Events Could Impact Viacom in Fiscal 2016?
By Shirley Pelts

Updated
Viacom's investment in original programming
Viacom (VIAB) is increasing its focus on original programming. A Viacom network, Comedy Central, has ten new programs in the pipeline.
Viacom is stepping up the scale of its original programming. It sees new opportunities for content distribution. Viacom expects its Media Networks business segment's programming expenses to grow in the mid to high single digits in fiscal 2016 due to its focus on original programming.
As the above chart shows, the expenses as a percentage of revenue for Viacom's Media Networks segment rose by two percentage points in fiscal 2015 to 59%.
Article continues below advertisement
Paramount Studios
In fiscal 2015, Paramount Studios didn't have many films in the pipeline. Viacom intends to fix this. It plans to have 15 movies in the pipeline in fiscal 2016.
Viacom expects the profit from Paramount Studios to be reflected in its results in the latter half of fiscal 2016 due to three summer movie releases including Teenage Mutant Ninja Turtles 2 and Star Trek 3.
Distribution agreement with AT&T and Hulu
In October this year, AT&T (T) entered into a multiyear agreement with Viacom. It will continue to provide programming for AT&T's U-verse television and DIRECTV subscribers.
As a result of these distribution agreements with AT&T and Hulu, Viacom expects its domestic affiliate fee revenue to grow in the high single digits in fiscal 2016.
Article continues below advertisement
Free cash flow and cash taxes
Viacom had a free cash flow of $2.2 billion in fiscal 2015—a fall of 13% from fiscal 2014. As of September 30, 2015, Viacom had a net debt of $11.8 billion on its books. Viacom repaid $800 million of its gross debt during fiscal 4Q15 to stay within its target leverage ratio. The company had a leverage ratio of 3.0x at the end of fiscal 4Q15.
Viacom's Media Networks segment previously generated $3.5–$4 billion in free cash flow per year. The company expects this to continue in fiscal 2016. An important variable that will likely impact Viacom in its fiscal 2016 calculation of free cash flow is cash taxes.
In fiscal 2015, Viacom had a cash tax benefit related to its acquisition of Channel 5. In fiscal 2016, Viacom won't have this benefit. It expects an increase of $300 million in cash taxes. However, the company is looking into tax laws that could offset this increase. It's still expecting to have a strong free cash flow in fiscal 2016.
Viacom accounts for 0.33% of the PowerShares QQQ Trust Series 1 ETF (QQQ). QQQ also holds 12.6% of Apple (AAPL) and 8.1% of Microsoft (MSFT).