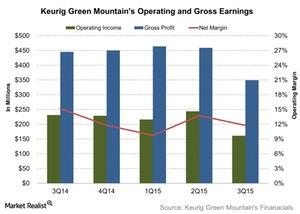 Is Keurig Green Mountain Revolutionizing the Beverage Experience?
By Sushree Mohanty

Updated
New products introduced
Keurig Green Mountain (GMCR) has around 575 different beverages products and over 80 brands in its product portfolio. The company has been launching various products to improve its performance, boost sales, and attract customers. The company launched many products in fiscal 2015.
The company started its Green Mountain Coffee Organic line in June 2015, and Green Mountain Coffee Reserve Colombia Tres Bourbon in August 2015. In September 2015, the company launched Keurig Kold. This month, the company introduced Green Mountain Coffeehouse. Keurig Green Mountain expects all of these products to boost sales and earnings in fiscal 2015 and 2016.
Article continues below advertisement
Introduction of Keurig Kold
On September 29, the company announced the launch of Keurig Kold, a beverage system. The system includes various brands from the company's portfolio, like Seraphine, Flyte, Waterful, Red Barn Craft Soda, Flynn's Soda Shop, and Tierney's Iced Tea. It also includes various brands from Coca-Cola (KO) and Dr Pepper Snapple (DPS). In the same month, Keurig also launched—in partnership with Campbell Soup (CPB)—Campbell's Fresh-Brewed Soup.
Launch of the Green Mountain Coffeehouse
On November 5, Keurig announced the launch of Green Mountain Coffeehouse, a new collection of beverages that includes cafe-inspired cappuccinos, lattes, and macchiatos.Management mentioned during the launch that they expect this product to continue their long-standing coffee expertise.
Article continues below advertisement
Fiscal 2016 outlook
Keurig Green Mountain anticipates its business to show modest growth in non-GAAP (generally accepted accounting principles) EPS (earnings per share) over fiscal 2015, including expected productivity savings. This anticipation is based on the previously issued guidance and estimates by the company for fiscal 2016. The company also expects at least $100 million of investment charges to be incurred in 2016 for their Keurig Kold product. This charge could also go higher depending on the pod manufacturing efficiencies and channel mix. The fiscal 2016 non-GAP EPS estimate doesn't include one-time charges related to the productivity program.
For the first quarter of fiscal 2016, Keurig believes non-GAAP EPS to fall versus F1Q15. This might occur due to the shipping of its new Kold appliances, more hot appliances year-over-year, and more production of Kold pods. The company also feels that it would experience a significant coffee cost headwind in 1Q16.
Coca-Cola reported YTD (year-to-date) returns of -1.4% while Campbell and Dr Pepper Snapple reported returns of 9.8% and 21.2%, respectively, as on November 12. The PowerShares Dynamic Market ETF (PWC) invests 0.48% of its portfolio in DPS and 0.39% in GMCR. On November 12, the PWC ETF recorded YTD returns of 0.72%.