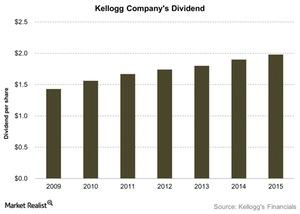 Kellogg Company's Outlook for Fiscal 2016
Management's view of 3Q15 performance
John Bryant, Kellogg Company's chairman of the board and chief executive officer, commented, "The Company's results for the third quarter continued the momentum that we saw earlier in the year. Our developing and emerging-market businesses performed well, and the trends in our developed businesses continued to show improvement over last year. Our major productivity programs continue to progress well, and we remain on-track to meet our objectives for 2015 and 2016."
Article continues below advertisement
Kellogg Company gives a stable dividend to its investors
The Kellogg Company had a dividend yield of 2.9% as of November 3, 2015. The company's management has been raising the dividend on a consistent basis for the last five years. It has increased at an average annual rate of 5.6%. The company paid ~$1.48 per share in dividends to shareholders in the first three quarters of 2015. For 2015, the company plans to give a total of $1.98 per share to shareholders in the form of dividends, implying another $0.5 per share in dividends in 4Q15.
Dividend declared
On October 23, the company announced that its Board of Directors declared a dividend of $0.50 per share on the company's common stock. The dividend is payable on December 15, 2015, to shareowners of record at the close of business on December 1, 2015. The ex-dividend date is November 27, 2015.
Article continues below advertisement
Outlook for fiscal 2016
The Kellogg Company continues to expect that in 2016 it will achieve its long-term target of 1–2% for currency-neutral comparable net sales and its long-term target of 4–6% for operating profit growth. The company still expects to meet its long-term target for currency-neutral comparable operating profit growth even if current sales growth trends continue and 2016's currency-neutral comparable net sales growth is at the lower end of the company's long-term target range. This confidence is the result of strong productivity programs, continued execution of Project K, and the anticipated implementation of zero-based budgeting. The company expects growth in currency-neutral comparable EPS (earnings per share) of 6–8%.
Initiatives to drive growth in fiscal 2016
The company's initiative to drive sales in high-frequency stores continues to go well. It has gained YTD (year-to-date) share in this channel in Mexico, Colombia, and Brazil and has increased its number of stores. The company sees a lot of opportunity in these channels in both the Latin American and Asia-Pacific regions and will continue focus on these channels for the next year.
The team in Latin America is expecting strong fourth-quarter results due to the high-frequency store program, the continued impact of granolas and mueslis, new bars launching in Brazil, new Special K Protein in Mexico, and some significant brand-building events across the region. Plans for 2016 include more great innovation and brand-building events.
The company's peers in the industry include The Hershey Company (HSY), Cal-Maine Foods (CALM), and Mead Johnson Nutrition Company (MJN). Hershey and Mead Johnson Nutrition Company reported YTD returns of -15.3% and -16.3%, respectively, while the Kellogg Company and Cal-Maine Foods reported positive YTD returns of 4.1% and 46.9%, respectively, as of November 3. The iShares Russell Mid-Cap Growth ETF (IWP) and and Wisdom Tree Dividend Ex-Financials Fund (DTN) invest 0.52% and 1.2% of their portfolios in the Kellogg Company.