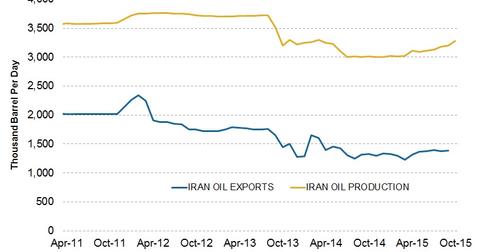 Potential Impact of Iran's Boost to Oil Production and Exports
By Sue Goodridge

Updated
Iran: Oil production and export
Iran's oil production has risen for the fifth-consecutive month and produced 3.3 MMbpd (million barrels per day) in October 2015 as compared to 3.2 MMbpd in the prior month.
The country exported 1.3 MMbpd of crude oil in September 2015. This was almost half of the 2.2 million–2.3 million MMbpd it had exported in mid-2012, before export bans were imposed.
Article continues below advertisement
Iran to boost production
The nuclear deal is expected to be implemented and sanctions to be lifted in the first half of 2016. According to Iran's oil minister, the country can increase production by 500,000 barrels per day immediately after lifting the sanctions and can reach pre-sanction output levels within seven months.
The country is targeting oil output of 5.7 MMbpd in five years' time. If the country achieves this level, it would probably reclaim its position as the second-largest producer in OPEC (Organization of the Petroleum Exporting Countries).
Iran to boost its exports
On November 17, 2015, Iran's oil minister said the country will export an additional 500,000 barrels of oil per day after sanctions are lifted. Going forward, the country has plans to get back to its pre-sanction export level of 2.2 MMbpd within a short period of time after the sanctions are lifted.
Article continues below advertisement
Impact on crude tankers
In an already oversupplied oil market, addition of Iranian oil will put downward pressure on oil prices. Lower oil prices due to the oversupply of oil encourages countries to stockpile, which increases crude tanker demand.
Iran has a minimum of 19 VLCCs (very large crude carriers) used for offshore storage. Once all these tankers leave floating storage and are back in action, the total marketable fleet will increase. An increase in tanker supply may push down VLCC rates.
Currently, China, India, Japan, and South Korea are the largest customers for Iranian oil. The Iran Ministry of Petroleum's SHANA news agency said Japan plans to triple its imports of Iranian crude once sanctions are lifted. The country will purchase up to 350,000 barrels per day from 110,000 barrels, the agency said.
Since Iran is closer to Asian countries, other Asian countries are also expected to replace their crude oil imports from the Atlantic Basin with imports from Iran. Replacing a longer route with a shorter one will negatively affect the ton-mile demand. This will affect companies such as Teekay Tankers (TNK), Tsakos Energy Navigation (TNP), Nordic American Tankers (NAT), DHT Holdings (DHT), Frontline (FRO), and Euronav (EURN).
Investors who are interested in broad exposure to industrial stocks can invest in the SPDR Dow Jones Industrial Average ETF (DIA).