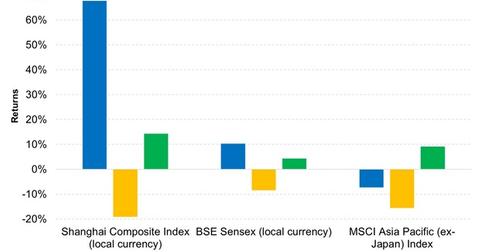 Investors Have Been Dazed and Confused
By Hugh Young

Updated
Investors may be confused, and with good reason. On the one hand, reform-minded leaders are at the helm of many of Asia's biggest economies; government finances are in better shape than they have been for some time; and cheap oil has boosted consumer sentiment and delivered an unexpected windfall for many countries.
On the other hand, economies struggle to grow; maritime disputes in the South China Sea are stoking political risk; and the prospect of US Federal Reserve (the Fed) policy actions pushing the US dollar even higher threatens to curtail returns for many foreign investors.
Article continues below advertisement
Investment returns are just as contradictory. A-shares trading in Shanghai and Shenzhen delivered a total return of some 64.8% in US dollar terms during the 12 months to July 31, despite a fall of nearly 28% since June 8. The MSCI India Index returned some 3.8 per cent in US dollar terms, after dividends were reinvested, over the same 12-month period. This was after shares had retreated from a record high in early March.
For the region as a whole, the MSCI Asia Pacific (ex-Japan) Index lost around 8.7% in dollar terms on a total return basis, during the year to the end of July.
Market Realist – Asian equities have staged a comeback.
Since the mauling in global equities (FAM) in August, equities have staged a comeback. The Shanghai Composite Index (GCH) rose 14.2% between August 24 and October 30. The BSE Sensex (IFN) and the MSCI Asia Pacific (ex-Japan) Index gained 4.3% and 9.1%, respectively, in the same period—mainly because the Fed delayed the rate liftoff, supporting emerging market equities (FEO)(EEM).
There's a contradiction within the US economy as well. While savings due to lower oil prices are showing signs of driving US consumption higher, US manufacturing (DIA) and exports are struggling due to the stronger dollar and weak global demand.