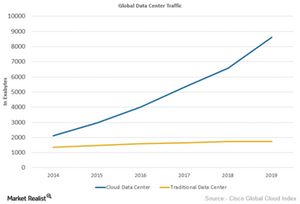 Internet Traffic for Cloud Data Centers Growing Exponentially
By Parker Thomas

Nov. 19 2015, Published 5:17 p.m. ET
Cloud surpasses traditional data centers
The growing complexity of processing transactions and storing data has led to the widespread acceptance of data center virtualization and cloud computing. Cloud computing is no longer limited to corporate enterprises, as it is being adopted by government organizations as well as consumers. The government has started shifting its critical operations to the cloud, allowing centralized access, and consumers can access a plethora of content across a wide number of devices irrespective of their geographical location.
Due to faster data processing, increased application performance, and improved operating efficiency, cloud computing is becoming widely accepted.
Article continues below advertisement
Cloud drives data center traffic
Cloud computing is leveraging data centers, with most Internet traffic streaming across, within, and between data centers. According to the Cisco Global Cloud Index report for 2014–2019, 83% of data center traffic will be cloud traffic by 2019.
The Internet traffic between data centers is expected to grow faster than the traffic that flows to the end users and within data centers. If enterprises maintain different data centers with different vendors, they move and copy content between clouds to multiple data centers. By 2019, traffic between data centers will increase to 9% of total data center traffic, compared with 2014's figure of 7%.
The PowerShares QQQ ETF (QQQ) is a portfolio of 107 stocks. Its top four stocks, Apple (AAPL), Microsoft (MSFT), Amazon.com (AMZN), and Google (GOOG), constitute 13.0%, 7.4%, 5.1, and 4.5% of the fund, respectively.