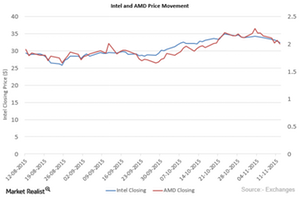 Intel Acquires Altera: Will History Repeat Itself?
By Parker Thomas

Nov. 13 2015, Updated 5:15 p.m. ET
Why did Intel acquire Altera?
As we discussed in the previous article of this series, changing business process trends are pushing companies to maintain their data storage in more secure and reliable spaces for easy access. This has resulted in the growing importance of the data center, which manages business applications and provides storage space at a reasonable cost.
Intel has captured this opportunity by acquiring programmable chipmaker Altera for $16.7 billion. Intel will be leveraging Altera's FPGA (field-programmable gate array) product series, which includes its Stratix, Arria, and Cyclone products. FPGAs are tightening their grip on data centers. By integrating FPGAs into its microprocessors, Intel can gain a competitive edge over its peer group and maintain the leading position for server chips in the future.
Article continues below advertisement
Advanced Micro Devices' strategy
Intel's strategic move to buy Altera could be risky. In 2006, AMD (Advanced Micro Devices) acquired the graphics processor manufacturer ATI Technologies. AMD's strategy was to gain ground in the graphics processor market, while being able to integrate ATI's GPU (graphics processing unit) and AMD's CPU (central processing unit) into a single chip. This strategy was successfully executed, and CPUs and GPUs are now available on a single silicon chip.
However, the integrated chip's performance has remained down in comparison to that of the stand-alone CPU chip. As a result, AMD underperformed in both CPU and GPU markets.
Although Intel's and AMD's strategies are quite similar, it's likely they will have different outcomes. Whereas having the two processors available on a single chip was simply innovating technology, the combined solutions offered by FPGAs and CPUs raise market opportunities.
The iShares North American Tech-Software ETF (IGV) is a portfolio of 62 stocks. Its top stocks Microsoft (MSFT), Adobe Systems (ADBE), salesforce.com (CRM), and Oracle (ORCL) constitute 9.6%, 9.0%, 8.8%, and 8.1% respectively.