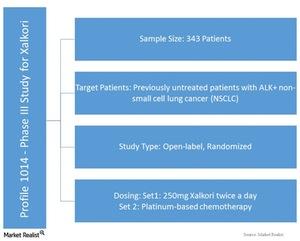 Insight on Profile 1014: Phase III Study for Xalkori
By Mike Benson

Nov. 30 2015, Updated 12:08 p.m. ET
Profile 1014 study
As mentioned earlier, Pfizer's (PFE) oncology drug Xalkori received its approval for the first-line treatment setup by the European Commission based on the efficacy data from the Profile 1014 study, on November 25, 2015. The Profile 1014 study is the second global Phase III study evaluating progression-free survival (or PFS) for the use of Xalkori for the treatment of patients with previously untreated anaplastic lymphoma kinase-positive (or ALK+) advanced non-small cell lung cancer (or NSCLC).
Article continues below advertisement
Further details 
Profile 1014 is the Phase III study for Xalkori, an ALK inhibitor. As per the company's press release, this study evaluated the progression-free survival for the use of Xalkori for treating patients with previously untreated ALK+ non-small cell lung cancer. The study compared the results with the use of platinum-based chemotherapy for a similar treatment.
This study was a randomized, open-label, two-arm Phase III study, involving 343 patients where around half of the patients were treated twice with Xalkori 250 mg every day while the remaining patients were treated with platinum-based chemotherapy. Xalkori demonstrated a median progression-free survival rate of 10.9 months as compared to 7 months for chemotherapy. Also, the objective response rate (or ORR) was much higher at 74%, as compared to 45% for chemotherapy.
As per the company's press release, the median overall survival was not reached in either of the treatments, as the majority of patients were in follow-up for survival when the final progression-free survival analysis was done, and over two-third of the patients who were randomized to the chemotherapy arm subsequently received Xalkori.
Some of the inhibitors used to treat various types of cancer include Iressa from AstraZeneca (AZN), Tarceva from Astellas Pharma (ALPMY), Tykerb from Novartis (NVS), Erbitux from Eli Lilly (LLY), and Vectibix from Amgen (AMGN). The MSCI Health Care Index ETF (FHLC) and the iShares Global Healthcare ETF (IXJ) have investments in Pfizer.