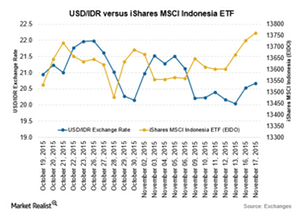 Indonesian Rupiah Traded Lower, Interest Rates Didn't Change
By David Meyer

Updated
Indonesian rupiah traded lower
The Indonesian rupiah was trading in a negative trajectory compared to the US dollar on November 17, 2015. Bank Indonesia decided to keep the interest rates unchanged at 7.5% in the monetary policy meeting on Tuesday. The central bank is concerned about the downfall of the rupiah this year. It has been the second worst performer among South Asian currencies after the Malaysian ringgit.
Bank Indonesia's governor, Agus Martowardojo, is also worried about an impending rate hike by the US Fed in December. A rate hike would put more pressure on the rupiah towards the end of the year. Bank Indonesia is waiting for the FOMC (Federal Open Market Committee) to attain a stance. The senior deputy governor, Mirza Adityaswara, stated that a rate cut by the Indonesian central bank is possible if the market reaction remains muted. Earlier this month, the Indonesian rupiah was trading with a weaker bias due to lower-than-expected growth in the GDP (gross domestic product). Read Why Is the Indonesian Rupiah Trading under Pressure? to learn more.
Article continues below advertisement
Reserve requirement lowered to increase liquidity
Even though the interest rates were kept unchanged, the central bank lowered the reserve requirement by 50 basis points from 8.0% to 7.5%. It's effective from December 1, 2015. The aim is to increase the liquidity into the banking system and add 18 trillion rupiahs, according to the deputy governor, Perry Warjiyo. Bank Indonesia is under pressure to stimulate a faltering economy without spurring volatility amid risks of capital outflows. On the other hand, the lending and deposit facility rates were left unchanged at 8.0% and 5.5%, respectively.
Impact on the market
Looking at the ETFs, the iShares MSCI Indonesia ETF (EIDO) was trading on a positive note on November 17, 2015, by 0.63%. On a different trajectory, the iShares MSCI Emerging Markets Asia ETF (EEMA) fell by 0.40%.
Looking at the South Asian ADRs (American depositary receipts), PT Telekomunikasi Indonesia Tbk (TLK) rose by 4.1%. On the other hand, Philippine Long Distance Telephone (PHI) rose by 0.40%. Taiwan Semiconductor Manufacturing (TSM) traded positively by 0.76%.