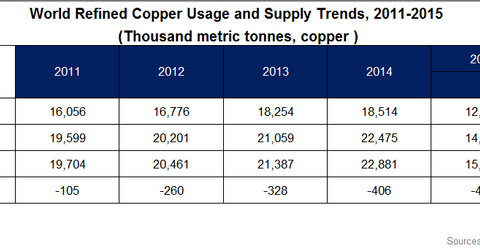 ICSG Report: Refined Copper Entered into a Surplus
By Val Kensington

Nov. 24 2015, Published 9:13 a.m. ET
ICSG report
On November 20, the ICSG (International Copper Study Group) released the preliminary data for August 2015. The data show the shift of refined copper from a deficit in first eight months of 2014 to a surplus in the same period in 2015.

Article continues below advertisement
Refined copper production
In the first eight months of 2015, refined copper's production rose by 1.6% to 235,000 metric tonnes compared to the same period in 2014. The primary copper production rose by 1%. The secondary production—copper produced from scrap—rose by 3.5%. In fiscal 1Q14, the production from the Philippines and Indonesia fell due to operational constraints. The resumed operations in the Philippines and Indonesia along with a rise in China's production by 4% contributed to the growth in the refined copper production.
Copper usage and balance
Compared with the apparent copper usage for the first eight months of 2014, the global apparent copper usage in first eight months of 2015 fell by 2%. Without considering the statistics from China, the global usage fell by 4%. According to the preliminary data released by the ICSG, the refined copper market recorded an apparent production surplus of 80,000 metric tonnes in August 2015—without adjusting for the change in China's bonded stock.
For the first eight months of 2015, the data showed a production surplus of 70,000 metric tonnes. For the same period in 2014, there was a production deficit of 460,000 metric tonnes. This shows the market's shift from a production deficit to a production surplus. To calculate the balance in the first eight months of 2015, you consider the data that's revised from the previous ICSG report.
The oversupply situation, weakness in the demand for copper, and the weak economic health in China caused base metals to fall in 2015. This also resulted in bearish price trends for major mining companies like Freeport-McMoRan (FCX), Glencore (GLNCY), Alcoa (AA), and BHP Billiton (BHP). Since the beginning of 2015, the SPDR S&P Metals & Mining ETF (XME) fell by 49% due to sluggish economic growth in China.