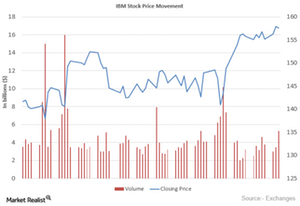 IBM to Incorporate Cloud Management by Acquiring Gravitant
By Parker Thomas

Nov. 6 2015, Published 3:38 p.m. ET
IBM is adding one more service to its portfolio
IBM is making a move toward the emerging cloud technology. On November 3, 2015, the company announced the acquisition of Gravitant, a private company. Gravitant is a cloud brokerage company that allows organizations to assess, procure, and manage cloud-based applications from various vendors to suit their current needs.
IBM is giving more importance to cloud management. Eventually, most IT companies will probably move in the same direction. For instance, Hewlett-Packard (HPQ) announced on October 21, 2015, that it's dropping its public cloud unit and concentrating more on managing cloud-based applications. Companies find it difficult to compete with leading cloud service vendors such as Amazon Web Service, VMware, and Oracle.
Article continues below advertisement
IBM addresses clients with best available alternative
On acquiring Gravitant, IBM will strengthen its cloud computing services by offering the best alternative available to its corporate clients. It will also be able to attract consumers to adopt the cloud infrastructure with available services such as on-premise, public cloud, and IBM's private cloud.
IBM is adding new technologies to its service portfolio such as cognitive computing, Internet of Things, and cloud computing to boost its revenue from services. However, IBM is suffering from its core business such as hardware and software. These have been declining for the last 14 consecutive quarters.
Martin Jetter, senior vice president of Global Technology Services for IBM, said, "The reality of enterprise IT is that it is many clouds with many characteristics, whether they be economic, capacity or security. Gravitant provides an innovative approach to add choice and simplicity to how enterprises can now manage their environments. It will be a key component as we broaden our hybrid cloud service."
The Power Shares QQQ ETF (QQQ) is a portfolio of 107 stocks. QQQ's top four stocks are Apple (AAPL), Microsoft (MSFT), Amazon (AMZN), and Google (GOOG), which make up 13.0%, 7.4%, 5.1, and 4.5%, respectively, of the ETF.