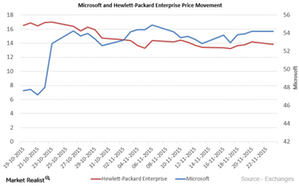 HP Enterprise Joining Microsoft: Will the Strategy Work?
By Parker Thomas

Nov. 25 2015, Published 1:00 p.m. ET
HP Enterprise to leverage Microsoft Azure
Cloud computing is emerging as one of the profitable business in the technology industry, where companies like Amazon, Microsoft, and Salesforce are accelerating their expansion into public cloud services. AWS (Amazon Web Services) is flying high in the cloud, making it difficult for others to stay around. This includes as Hewlett Packard Enterprise as it announced the shutdown of it public cloud business unit on October 2015. The company stated that it plans to divert its focus to the hybrid and private clouds. Moreover, the company decided to manage cloud services for the leading cloud service providers, and offer their clients with a range of available solutions.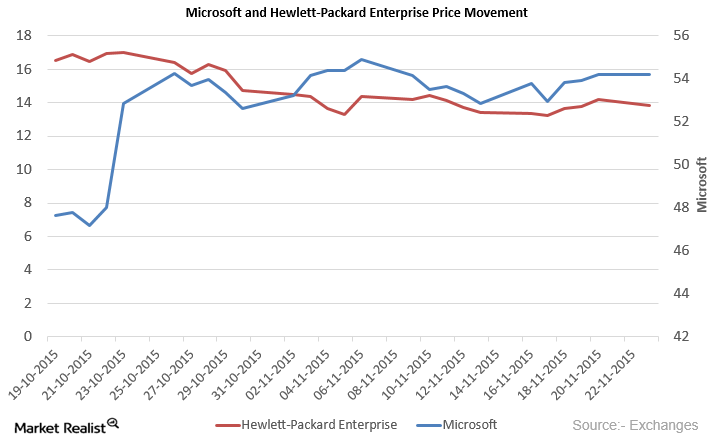 Article continues below advertisement
On November 24, 2015, Hewlett Packard Enterprise announced its intention to collaborate with Microsoft to manage and sell Microsoft Azure. The agreement between the two will allow HP Enterprise to sell Microsoft Azure as its "preferred cloud alternative." whereas, for Microsoft, HP Enterprise will be the "preferred cloud service provider" for their clients.
What was the strategy?
Hewlett Packard Enterprise is focusing on the hybrid cloud. The hybrid cloud is a combination of both public and private clouds, where significant resources are deployed at the private cloud, and other resources at the public cloud. Hewlett Packard Enterprise can leverage Microsoft Azure with its own data center by switching some of its resources to Microsoft's public cloud, reducing bottlenecks during the busy season. Moreover, if Hewlett Packard Enterprise's strategy doesn't pan out, then it will always have the alternative of switching to Microsoft's competitors.
Apart from Hewlett Packard Enterprise, there are other hybrid cloud service providers such as IBM and Oracle. However, they are offering their own cloud services that facilitate their clients to deploy part of their resources to the public cloud.
The SPDR S&P 500 ETF (SPY) is a portfolio of 507 stocks, whose top four stocks are Apple (AAPL), Microsoft (MSFT), ExxonMobil (XOM), and General Electric (GE). They constitute 3.6%, 2.3%, 1.9%, and 1.7%, respectively, of SPY's portfolio.