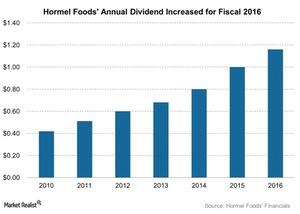 What Has Hormel Foods Planned for Fiscal 2016?
By Sushree Mohanty

Aug. 18 2020, Updated 5:32 a.m. ET
Dividend increase
On November 23, Hormel Foods (HRL) announced a 16% increase in its annual dividend, effective fiscal 2016. The annual dividend is now raised to $1.16 per share to be paid in fiscal 2016. This marked the fiftieth consecutive annual dividend increase. The company also announced the first quarterly dividend for fiscal 2016 of $0.29 per share to be paid on February 16, 2016, to stockholders of record at the close of business on January 19, 2016. It has a dividend yield of 1.41% as of November 25, 2015. The company's management has been raising its dividend consistently for the last five years. The dividend rose at an average annual rate of 16.5%.
Article continues below advertisement
Outlook for fiscal 2016
Hormel Foods (HRL) mentioned in its fiscal 4Q15 earnings call that the earnings guidance range for fiscal 2016 is $2.85–$2.95 per share. This guidance would include full-year contributions from the sale of the Diamond Crystal business. The company will provide updated earnings guidance once the deal finalizes in fiscal 2016. Fiscal 2016 also includes an extra week in the fourth quarter. The company assumes that the 53rd week will contribute ~1% of the earnings increase over fiscal 2015 in their guidance range.
It raised guidance for its operating income margins to a new range of 10%–13%, reflecting the current business structure, product mix, and market volatility. The company plans to reinvest in its business through higher capital investments and to complete the construction of its new plant in Jiaxing, China, and start production by the end of 2016.
The Jennie-O fresh tray pack products capacity addition is expected to start in fiscal 2016—with the assumption of no outbreak of avian influenza. This move should result in ~$250 million in capital expenditures in fiscal 2016. The company expects selling, general, and administrative expenses to be ~8% of sales and interest expenses to be ~$14 million for fiscal 2016.
Article continues below advertisement
Hormel's competitors in the industry include B&G Foods (BGS), Pinnacle Foods (PF), and Cal-Maine Foods (CALM). B&G Foods, Pinnacle, and Cal-Maine reported returns of 26.7%, 25.9%, and 43.2%, respectively, as of November 25. The WisdomTree SmallCap Dividend Fund (DES) and the iShares S&P SmallCap 600 Growth ETF (IJT) invest 0.6% and 0.4%, respectively, of their portfolios in BGS stock as of November 25.
Segment-related guidance for fiscal 2016
The company raised its Grocery Products operating margin guidance to the range of 13%–15% in fiscal 2016, owing to the benefit the company expects to receive from improved pork and beef input costs towards the end of fiscal 2015. It raised the Refrigerated Foods operating margin also to 7%–10%, owing to an improved product mix, increased pork production, and favorable raw material costs. It tightened the guidance range for its Jennie-O Turkey Store segment operating margin to 14%–17% for fiscal 2016. Hormel kept the long-term segment margin guidance for the Specialty Foods segment the same at 8%–11%. It expects this segment to deliver profit through the growth of its Muscle Milk protein nutrition products. The International segment margin guidance remains at 14%–17%.