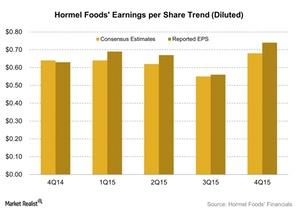 Hormel Foods' Earnings Beat Consensus Estimates in Fiscal 4Q15
EPS rose by 17.5%
Hormel Foods (HRL) reported fiscal 4Q15 non-GAAP (generally accepted accounting principles) net earnings of $187 million, an increase of 9% from net earnings of $171 million in the corresponding quarter a year ago. The adjusted diluted EPS (earnings per share) for fiscal 4Q15 were $0.74, a rise of 17.5% compared to $0.63 per share in fiscal 4Q14. The company reported non-GAAP adjusted net earnings for fiscal 2015 of $714.4 million, a rise of 19% from earnings of $602.7 million in fiscal 2014. The non-GAAP adjusted diluted earnings per share were $2.64, a rise of 18% from EPS of $2.23 in fiscal 2014.
Article continues below advertisement
As the company mentioned in its press release, its net earnings, diluted net earnings, and adjusted segment operating profit results excluded charges relating to the closure of the manufacturing facility in Stockton, California, and the exit from international joint venture businesses in the first quarter. The results also exclude a few other charges relating to the goodwill impairment associated with the Diamond Crystal Brands business and an adjustment to the contingent consideration accrual for CytoSport in the fourth quarter.
The company managed to surpass EPS consensus estimates in all four quarters of fiscal 2015. In fiscal 4Q15, Hormel was ahead of estimates by 8.82%. The EPS consensus estimate for fiscal 4Q15 was $0.68. Analysts who follow this company are forecasting an earnings increase in 2015 of 8.0% over last year. Analysts expect growth in earnings next year of 4% over this year's forecast earnings. They also expect the company to grow earnings at an average annual rate of 11.1% over the next five years.
Share repurchases
The company repurchased 400,000 shares of its stock for $24.9 million in the fiscal 4Q15. It now has 7.8 million shares remaining from the current share repurchase authorization.
Hormel's rivals in the industry include Mead Johnson (MJN), Flowers Foods (FLO), and Pilgrim's Pride (PPC). They reported EPS of $0.77, $0.21, and $0.53, respectively, in their last reported quarters. The iShares U.S. Consumer Goods ETF (IYK) and First Trust Large Cap Growth Opportunities Alpha DEX Fund (FTC) invest 0.44% and 0.97%, respectively, of their portfolios in TSN stock.