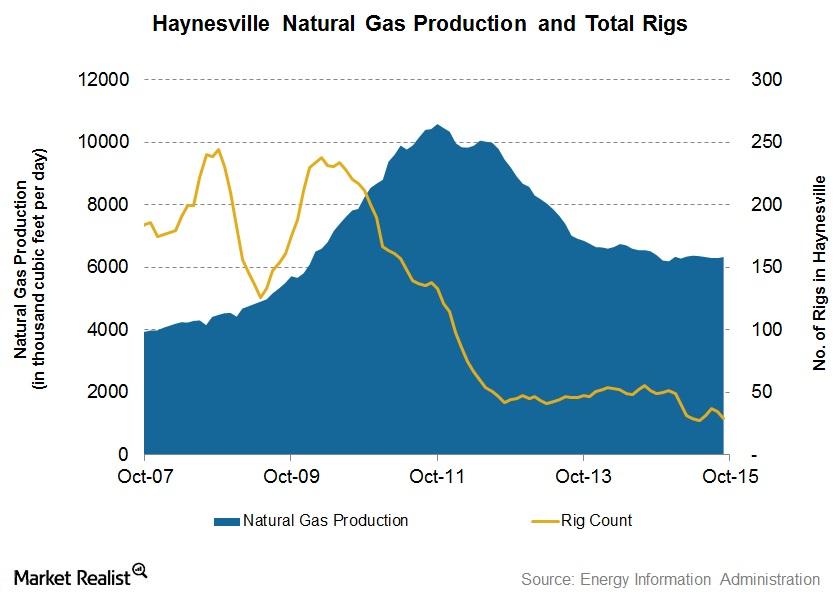 Haynesville Shale Natural Gas Production: Finally Up in October
By Alex Chamberlin

Nov. 16 2015, Updated 11:06 a.m. ET
Haynesville shale natural gas production
The EIA (US Energy Information Administration) estimates that the Haynesville Shale produced 6.3 Bcf (billion cubic feet) per day of natural gas in October 2015. This is according to its Drilling Productivity Report released on November 9, 2015.
The Haynesville Shale's natural gas production in October was 0.5% higher than production in September. This marked the first rise in Haynesville natural gas production in four months. However, on a YoY (year-over-year) basis, it was 2.8% lower.
The Haynesville Shale is located in Louisiana, southwestern Arkansas, and eastern Texas.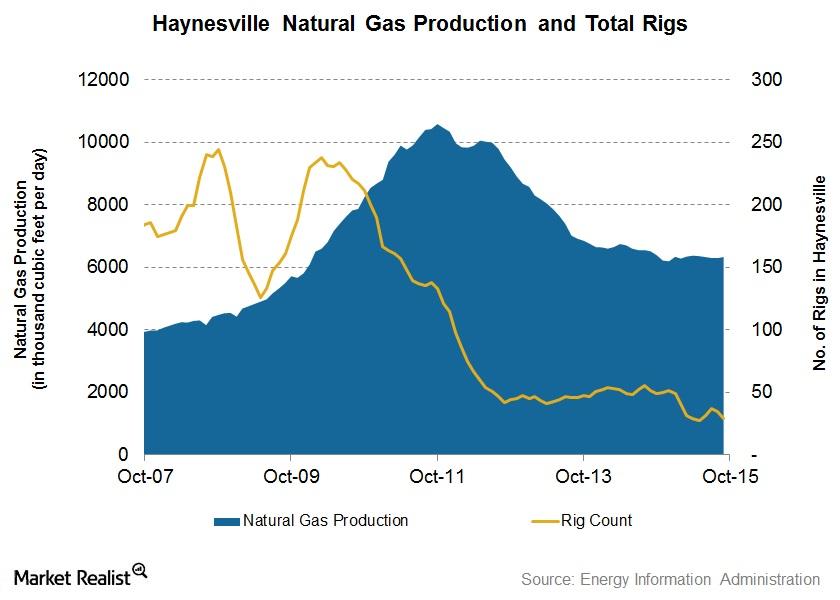 According to the EIA, natural gas production at the Haynesville Shale rose by 61% over the past eight years. In October 2015, the region produced ~6.3 Bcf per day of natural gas compared to ~3.9 Bcf per day in October 2007.
Article continues below advertisement
What this means for Haynesville producers
Natural gas producers at the Haynesville Shale tend to lose from lower production, and vice versa. Haynesville producers include Anadarko Petroleum Corporation (APC), BHP Billiton (BHP), EP Energy Corporation (EPE), and EXCO Resources (XCO).
Anadarko Petroleum accounts for 1.5% of the SPDR S&P Oil & Gas Exploration & Production ETF (XOP). It also makes up 0.2% of the SPDR S&P 500 ETF (SPY).
Haynesville rigs and monthly additions on per-rig average
There were 29 active rigs at the Haynesville Shale in October, down from 35 in September 2015. One year previously, there were 52 drilling rigs in the region. But it's important to note that most of the Haynesville rigs are horizontal in trajectory.
From October 2007 to October 2015, additional natural gas production per rig at the Haynesville Shale rose from ~1.1 MMcf (million cubic feet) per day to ~5.7 MMcf per day, or by 4.1x. In the 12 months prior to October 2015, natural gas production additions per rig rose by 19%.
Have production adjustments begun in US shales?
Crude oil and natural gas production at key US shales rose over the past few years. However, aggregate crude oil production in these shales fell over the past six months, as of November 9, 2015. Aggregate natural gas production followed suit over the past four months. The EIA's projections suggest that production could fall more or else stagnate at many of these shales in November and December 2015.
In the next two parts of this series, we'll review the EIA's crude oil and natural gas production forecasts for the major US shales.