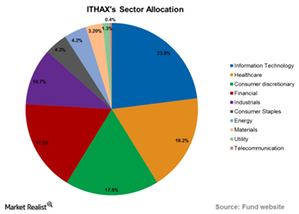 The Hartford Capital Appreciation Fund: What You Need to know
Introduction
The Hartford Capital Appreciation ETF (ITHAX) is an actively managed mutual fund. The fund invests 65% of its net asset in US medium- and large-cap companies, and the remaining 35% in international securities, including companies that conduct their principal business activity in emerging markets. The ITHAX fund is managed by four portfolio managers while Wellington Management Company is the fund's sub-adviser.
Article continues below advertisement
Key details
The Hartford Capital fund was launched in July 1996, and since inception has given a return of 12.4%, as of September 30, 2015. The mutual fund has a minimum investment requirement of $2,000. As of September 2015, the fund's current assets under management, or AUM, are $9.9 billion. It has an expense ratio of 1.1% of the value of investment. The ITHAX fund considers the Russell 3000 Index to be its benchmark index. Its beta, a generic measure of the sensitivity of the fund relative to market sensitivity, for the three-year period ending September 2015, is 1.07.
The top invested sectors of the ITHAX fund are information technology, healthcare, and consumer discretionary, forming 23%, 18.2%, and 17.6%, respectively, of the fund's net assets.
Top holdings
As of September 2015, the Hartford Capital fund was invested in 395 companies with the top ten holdings making up 19.9% of its portfolio. Its top holdings include Bristol-Myers Squibb (BMY), Activision Blizzard (ATVI), ACE Limited (ACE), and Intel (INTC).
Next, we'll analyze the performance of the ITHAX fund.