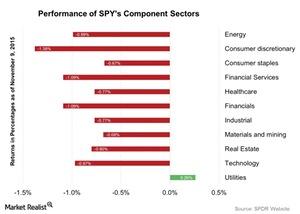 Global Growth Forecast Weighed Down SPY on Monday, November 9
Component sectors ended in red
All the component sectors of the SPDR S&P 500 ETF (SPY), except utilities, ended lower on Monday, November 9. The following graph depicts the sector performances of the SPY ETF as of November 9.
Investors seem uncertain over the future of the US economy amid a slowdown in global economic growth. Also, China's falling import and export level for October raised concerns over the future of commodity-exporting countries as well as the economies exposed to Chinese trade.
Article continues below advertisement
In addition to this, the OECD (Organisation for Economic Co-operation and Development) lowered its forecast for global growth to 2.9% in 2015, and to 3.3% for 2016. Meanwhile, the Conference Board has also projected a global GDP growth rate of 2.8% in 2016. The growth rate can fall to the 1.9% level contingent on downward risks.
Investors also seem concerned that given a rising Fed rate, the stronger US dollar would impact the commodities trade and US multinational companies exposed to currency exchange rates, whereas ultra-low interest rates have always bolstered stock markets globally.
Sector performances
The consumer discretionary sector followed by the energy sector led the falls on the day. The rise in oil inventory caused a further fall in oil prices pulling down energy stocks.
The response of metals on the day was mixed, with copper and steel, represented by their respective ETFs, falling on November 9. Meanwhile, gold rose on the day owing to a festive season boosting its sale in India. As a result, miners of precious metals, namely gold and silver, gained on the day, while miners of steel, copper, and other basic material fell.
Gold miners Newmont Mining (NEM), Barrick Gold (ABX), Royal Gold (RGLD), and Goldcorp (GG) gained 1.8%, 4.4%, 7.8%, and 3.4%, respectively, on November 9.
Let's look at the key stocks of the SPY ETF on November 9.