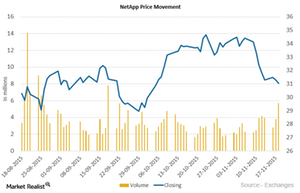 Gemalto and NetApp to Build Solution for AWS
By Parker Thomas

Updated
AWS, storage, and security
The growing trend for cloud computing increases opportunity for cyber criminals to pull sensitive data from the network without the knowledge of the proprietor. This trend forces organization to collaborate with each other and offer comprehensive solutions to businesses that ensure secure and reliability. Gemalto and NetApp will be working together to develop a solution for Amazon Web Services (or AWS) by offering their customers an "integrated storage, encryption, and key management solution."
The combined solution of the two firms will leverage Amazon's SafeNet Virtual KeySecure for NetApp Cloud ONTAP. The solution will allow their clients to store their encrypted data and applications with a virtual environment by ensuring businesses of complete ownership of their encryption key.
Article continues below advertisement
Customized solution for business clients
A priority for organization that plan to migrate from traditional storage to the cloud is network storage encryption, while ensuring proper execution of application without any latency. There are several encryption services available for integration, but Gemalto has a competitive edge as it provides consumers with full control over the keys that allow data access.
Consumers can tap their cloud usage with NetApp's Cloud ONTAP. This allows a range of storage capacity, ranging from low to extensive. On integrating with Amazon's SafeNet Virtual KeySecure, the end-users can automate the risk mitigation process and at the same time improve application performance. Moreover, end-users can integrate the solution with their existing running application by paying only for the cloud resources they use. This could lead to better ROI (return on investment) by reducing the overall IT cost.
The top four stocks of the PowerShares QQQ Trust's (QQQ) 107 stocks are Apple (AAPL), Microsoft (MSFT), Amazon (AMZN), and Google (GOOG). These four constitute 13.0%, 7.4%, 5.1, and 4.5%, of QQQ, respectively.