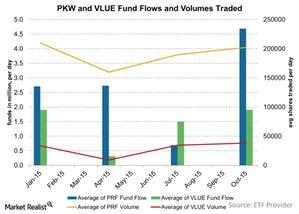 Analyzing PRF's Fund Flow
By Ivan Kading

Nov. 17 2015, Updated 9:06 a.m. ET
PRF versus VLUE
The index of the PowerShares FTSE RAFI US 1000 Portfolio (PRF) consists of more than 1,000 stocks. The index provider selects stocks by taking into consideration four fundamental measures: book value, cash flow, sales, and dividends. PRF manages one of the largest portfolios and has stocks from indexes all over the world. VLUE is a similar smart beta fund from iShares that seeks to track the investment result of MSCI USA Enhanced Value Index. Similar to PRF, the index provider of VLUE has a stock selection methodology based on valuation factors such as price-to-book, price-to-earnings, and price-to-cashflow. The chart below presents the recent fund flow and volume analysis of PRF and VLUE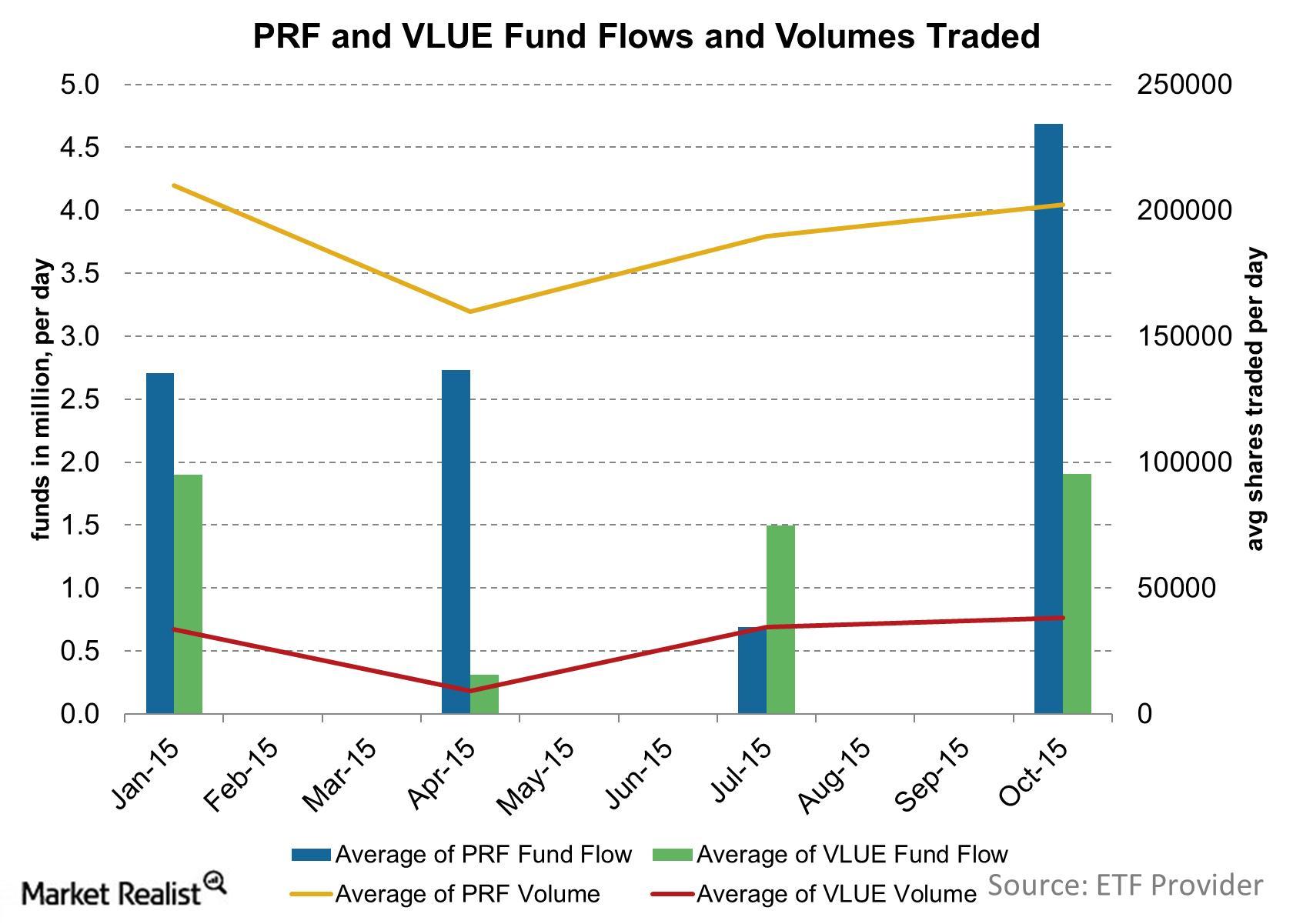 Article continues below advertisement
Healthy inflow of funds
The funds for PRF have increased significantly since January compared to VLUE, which has seen a comparatively low growth in its inflow of funds. Funds inflow helps in improving the performance of a fund, as it makes more cash available for the manager. After taking a dip in April 2015, volume traded per day has also seen strong growth in the current quarter.
Portfolio comparison
PRF has many fundamentally strong funds such Bank of America (BAC), Wells Fargo (WFC), and MetLife (MET). The top holdings of VLUE are Intel (INTC), Pfizer (PFE), and Cisco Systems (CSCO). The top ten holdings of PRF represent 18.6% of its total portfolio. Considering PRF's vast portfolio, its market performance is primarily dependent on its top holdings.