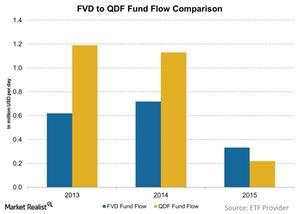 A Fund Flow Analysis of the First Trust Value Line Dividend Index Fund
By Ivan Kading

Updated
FVD versus QDF
The First Trust Value Line Dividend Index Fund (FVD) seeks to mimic the performance result of the Value Line Dividend Index. FVD's index provider selects stocks that pay regular dividends to their investors and are fundamentally strong.
A similar smart beta fund that has dividend yields as a factor for stock selection is the First Trust Value Line Dividend Index Fund Dividend Index Fund (QDF), which seeks to track the investment result of Northern Trust Quality Dividend Index. The index provider of QDF select stocks from the range of US-listed stocks that are high in quality and have a good dividend payout ratio. In this sense, the index targets regular income for their investors with a possibility of long-term capital appreciation.
Article continues below advertisement
Comparison of fund inflow and outflow
The graph above shows information related to the average fund flow per day of FVD and QDF between 2013 and YTD (year-to-date) 2015. After relatively strong inflows of the fund in 2013, QDF fund inflows started to decrease. FVD, comparatively, had similar fund inflows across all three years and even beat QDF marginally this year.
But 2015 has seen a considerable falls in funds both for FVD and QDF due to the weak economic environment and the poor performance of the market S&P 500 (SPY) compared to 2014.
Holdings comparison
As of early November 2015, QDF's portfolio size stood at $681.30 million, with stocks such as Wells Fargo & Company (WFC), Home Depot (HD), Apple (AAPL) among its top holdings. FVD's top holdings include AbbVie (ABBV), BOK Financial Corporation (BOKF), Chevron Corporation (CVX), and MSC Industrial (MSM). Whether a company pays regular dividends is the primary criteria for these funds' stock selection.
In the next part of this series, we'll analyze the holdings of FVD in more detail.