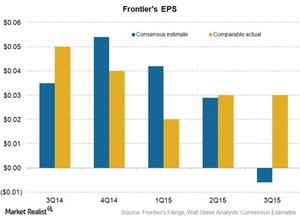 Frontier's 3Q15 Earnings Surprise Wall Street Analysts
Frontier's earnings in 3Q15
Frontier Communications (FTR) reported its 3Q15 results on November 3, 2015. In this series, we'll take a look at the company's performance during the quarter. On an adjusted basis, Frontier surprised Wall Street analysts with positive earnings, as it was expected to have loss for the quarter. Frontier had an adjusted EPS (earnings per share) of ~$0.03 for 3Q15. Wall Street analysts' consensus estimate for the company was a loss per share of $0.01 for the quarter.
Article continues below advertisement
As you can see in the above chart, this is the second quarter in a row the telecom company has beaten Wall Street's consensus earnings estimates. Earlier in 2Q15, Frontier's adjusted earnings were ~3.4% above analysts' estimates. However, in 1Q15 and 4Q14, Frontier's earnings were significantly lower than Wall Street's expectations.
On a year-over-year basis, Frontier's adjusted EPS fell by ~40% during 3Q15. On the day these results were announced, the company's stock price fell ~6.8% from the previous day's close.
Frontier's guidance for 2015
The 2015 guidance for free cash flows and capital expenditures remains intact. According to Frontier, without taking into account integration efforts, anticipated capital expenditure is in the range of $700 million to $750 million for the year. The company's guidance for free cash flows is between $825 million and $865 million for 2015.
Instead of taking direct exposure to Frontier's stock, you may consider taking diversified exposure to the telecom company by investing in the SPDR S&P 500 ETF (SPY). The ETF had ~0.03% of its holdings in the company at the end of September 2015. Please note that the ETF has a total exposure of ~2.3% to US wireline players AT&T (T), Verizon (VZ), and CenturyLink (CTL).