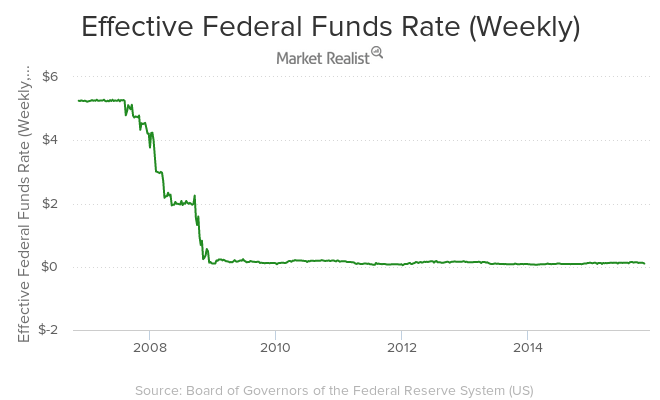 What Did the FOMC Say in Its October 2015 Statement?
A brief overview
The FOMC (Federal Open Market Committee) last met on October 27–28, 2015. Policymakers sounded positive about household spending and fixed business investments. In the September FOMC statement, policymakers had described their pace as "moderate," which was upgraded to "solid" in the October statement.
[marketrealist-chart id=807233]
Job additions in the economy had been described as "solid" in September, however, the October statement characterized the pace as having "slowed." You would have noted the strong pace of job additions for October 2015, reported by the Bureau of Labor Statistics on November 6.
Article continues below advertisement
When the FOMC met in October, the latest available non-farm payrolls report was for September, which had showed that only 142,000 jobs had been added for the month. Due to a disappointing report for September, as well as a reduction in earlier reported additions for August, policymakers noted that its pace has slowed.
Declining energy prices exerted downward pressure on inflation, hurting the revenues of companies like Total S.A. (TOT), Royal Dutch Shell plc (RDS.B), and BP (BP).
International developments remained in focus
The FOMC continued to attach importance to international (ARTIX) (AIIEX) economic developments while determining the path of monetary policy in the US. However, in September, the FOMC had emphasized this aspect by stating, "Recent global economic and financial developments may restrain economic activity somewhat and are likely to put further downward pressure on inflation in the near term."
In October, the focus seemed to be more on domestic factors, with the FOMC continuing to monitor global economic and financial developments.
Rate hike hints?
From a rate hike perspective, the meeting was supposed to be a non-event, and it was—the federal funds rate remained in the 0%–0.25% range. Since then, there have been worries about a rate hike in December 2015. Let's look at this in more detail in the next article.