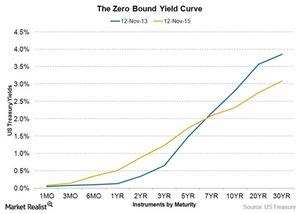 Why Does a Flat Yield Curve Fail the "Spread" Model?
By Surbhi Jain

Nov. 18 2015, Published 8:54 a.m. ET
A flat yield curve fails the spread model
In his Investment Outlook for November, Bill Gross doesn't fail to recognize the harm that low-interest rates cause to the efficacy of the spread model of finance-based businesses. Even in his October edition of the Investment Outlook, Gross talked about how interest rates, at near zero, destroy liability-based business models.
Capitalist models like pension funds and insurance companies—both make money by investing the premiums—are among the first to fall prey to the policy.
Article continues below advertisement
According to Gross, "zero destroys existing business models such as life insurance company balance sheets and pension funds, which in turn are expected to use the proceeds to pay benefits for an aging boomer society." These business models that seek to grow money on interest rates, and shell out part of it as claims arise, have gone out the window.
Capitalism stalls under a zero-bound yield curve
With long-term bond (TLT) (TBT) yields tending to match those offered by short-term bonds (SHY) (BIL), where we can see a yield curve that's almost flat or appears zero bound, the long-term-liability-based finance companies are left starved of spread. According to Gross, "If long term liability based pension funds and insurance companies cannot earn an acceptable 'spread' from maturity extension – and in the case of zero based policy rates – cannot therefore earn an acceptable return on their investments to cover future liabilities, then capitalism stalls or goes in reverse."
The US Treasury yield curve has flattened
As can be seen in the chart above, the US Treasury yield curve has flattened, lessening the difference between short-term and longer maturity instruments. Yields on short-term Treasuries (SHY) have risen on the expected rate hike this year. Short-term Treasuries are directly impacted by a rise in rates.
With the expectation of a yield rise and a price fall in short-term Treasury securities, investors have moved into other investment avenues, including medium-term Treasuries (IEF) and corporate bonds issued by companies such as CVS Health (CVS), Wells Fargo (WFC), and PepsiCo (PEP).
At the same time, yields on longer-term Treasuries have fallen, since a fall in commodity prices lowered the outlook on inflation. They are also emblematic of lower growth expectations. You can refer to Why Is the Treasury Yield Curve Getting Flatter? for more insight.
Let's move on to asses the impact of a flat yield curve on the US economy.