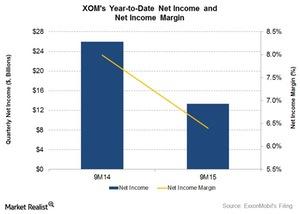 ExxonMobil's 9M15 Earnings: Downstream Rescues the Company Again
By Alex Chamberlin

Nov. 4 2015, Updated 10:09 a.m. ET
ExxonMobil's 9M15 revenues
We've already looked at ExxonMobil's (XOM) 3Q15 segment performance. Now let's look at its year-to-date (or YTD) revenues and earnings. XOM recorded $209.1 billion in revenues and other income for 9M15, down 36% from $324.7 billion recorded in 9M14. The biggest contributing factor was tumbling crude oil prices. The 9M15 average for North Sea Brent crude declined 47% compared to average 9M14 levels.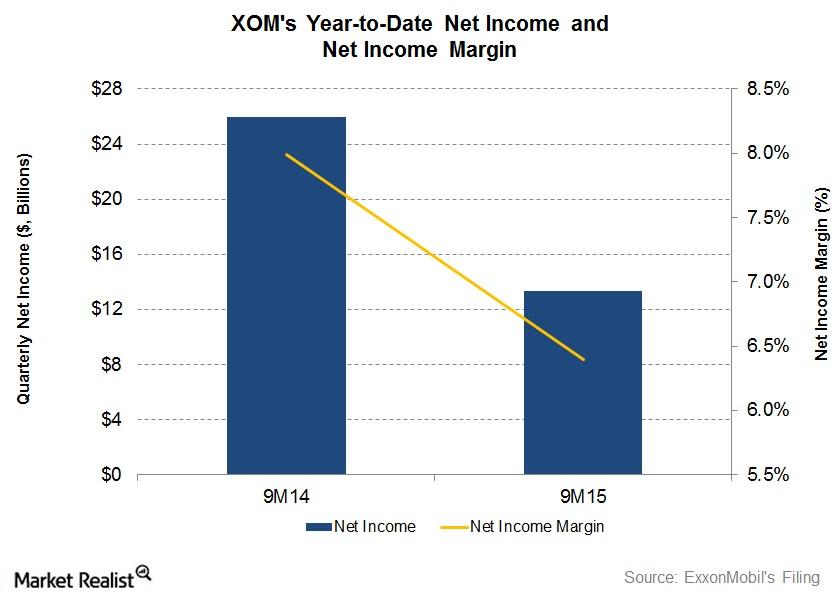 Article continues below advertisement
ExxonMobil's 9M15 earnings
ExxonMobil's 9M15 net income fell ~49% to $13.4 billion compared to $26.0 billion net income a year ago. Net income margin (net income as a percentage of its total revenues) fell to 6.4% in 9M15 from 8.0% in 9M14. The margin drop was less severe as a result of strong earnings growth in XOM's downstream segment.
Year-over-year, ExxonMobil's US earnings fell 62% in 9M15 compared to a 41% fall in XOM's revenues from all its remaining international operations put together.
ExxonMobil's YTD upstream versus downstream performance
Lower price realization accounted for 95% of XOM's 9M15 upstream earnings decline. This was partially offset by XOM's upstream production, which increased 3% in the first nine months of 2015 compared to the first nine months of 2014.
Volume growth was particularly visible in XOM's crude oil production as a result of project ramp-ups and entitlement effects. Entitlement effects are changes to ExxonMobil's production volumes share, which are caused by various non-operational factors. Overall, upstream earnings were down significantly by 72% during the same period.
Article continues below advertisement
In comparison, its downstream segment earnings more than doubled during 9M15 over the same period in 9M14. Most of the improvements came through ExxonMobil's superior margins, partially offset by higher maintenance expenses and lower petroleum product sales. Earnings for the chemical segment increased 12% during the same period due to a better mix of higher margin products in XOM's production portfolio.
In 9M15, ExxonMobil's EBITDA (earnings before interest, taxes, depreciation, and amortization) fell 35% from 9M14. In comparison, BP's (BP) EBITDA fell 73% during the same period. BP, a British integrated energy company, has a $109 billion market capitalization compared to a $345 billion market capitalization for ExxonMobil.
ExxonMobil makes up 24% of the Vanguard Energy ETF (VDE). You can also read Market Realist's Key Takeaways from Integrated Major BP's 3Q15 Earnings.
Next, we'll look at Wall Street analysts' recommendations for ExxonMobil.