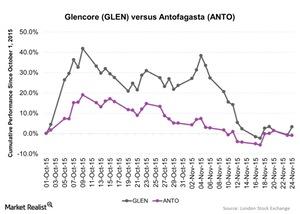 EWU Managed Slight Gains following the Rise in Oil Prices
EWU gained 0.06%
The iShares MSCI United Kingdom ETF (EWU) rose 0.06% on Tuesday, November 24, 2015, boosted by the rally in energy stocks. Energy stocks rose on the day as Brent crude rose 2.9% to $46.12 per barrel in London.
Oil rose on the day due to concerns of terrorism threats and probable tensions in the Middle East after Turkey downed a Russian jet. Stocks of Royal Dutch Shell (RDS.A) (RDS.B), and BP (BP) rose 1.4%, 1.6%, and 1.4%, respectively, on the day.
Article continues below advertisement
Key stocks
Stocks at the top of the EWU on November 24 were Glencore (GLEN), Rolls-Royce Holdings (RR) (RYCEY), Tullow Oil (TLW), and Intertek Group (ITRK). These stocks gained 3.9%, 3.3%, 3.3%, and 3.3%, respectively, on the day.
Aerospace and defense stocks such as Rolls-Royce Holdings continued to gain on the grounds of security amid terror attacks and the rise of sales to governments. Tullow Oil rose due to the rise in oil.
Glencore gained on the day after the company announced that its Zambian unit laid off 4,300 workers. The company intends to cut down its copper output sharply to keep up with a steep fall in commodity prices.
The graph above compares the stock price performances of Glencore and Antofagasta (ANTO). Both companies are involved in diversified metals and mining, primarily in copper exploration, mining, and development.
Glencore traded at 93.98 British pence. Its 100-day, 50-day, and 20-day moving averages were 146 pence, 109 pence, and 105 pence, respectively. Its trailing-five-day return was 5.8%. After the layoffs announcement, the stock's trading volume surged to 71,060,000 stocks from 66,640,000 stocks on the previous day. Standard & Poor's has rated the stock a "BBB" with a "negative" outlook.
Stocks at the bottom of the EWU on November 24 were Burberry (BRBY), Whitbread (WTB), and EasyJet. These stocks yielded -5.0%, -3.2%, and -3.2%, respectively, on the day.
Airline stocks such as EasyJet are trending downward due to the rise in panic amid the recent terror attacks. The worldwide travel alert also hurt travel and tourism stocks.
For more information on the crude oil scenario, you can read Crude Oil Market's Response to Turkey's Takedown of Russian Jet.