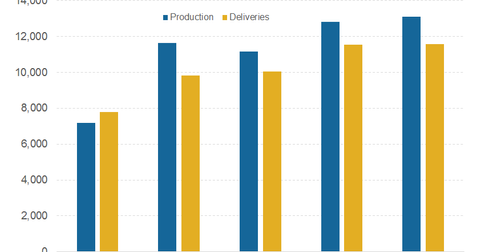 Evaluating Tesla Motors' Plan to Deliver over 17,000 Cars in 4Q15
By Mohit Oberoi, CFA

Nov. 9 2015, Updated 8:07 a.m. ET
4Q15 deliveries
In our October series on Tesla Motors (TSLA), What Should Investors Expect from Tesla's 3Q15 Earnings, we noted that Tesla needs to sell 16,883 cars in 4Q15 to meet the lower end of its 2015 guidance. Tesla sold 11,580 cars in 3Q15. However, during the company's 3Q15 earnings conference call, Tesla gave a guidance of 17,000–19,000 deliveries in 4Q15. This would mean that Tesla has the high aim of selling 50,000–52,000 vehicles in fiscal 2015. Let's see how Tesla plans to increase its deliveries in 4Q15.
Article continues below advertisement
Higher production
In 4Q15, Tesla plans to produce 15,000–17,000 cars. The company produced 13,091 cars in 3Q15, which was better than what it had planned. Responding to apprehensions of how Tesla plans to ramp up so fast in 4Q15, CEO Elon Musk said, "It's not as big a leap as it might seem from Q4 to Q3, because there's a whole week missing from Q3. And we continue to ramp the rate all the way from the beginning of Q3 through end of year for Model S."
We should note that Tesla did lose one week of production in 3Q15 while it worked to ramp up its production line.
Inventory
Higher production, along with inventory from previous months, should help Tesla meet its 2015 delivery targets. But we should note that Tesla's production has been higher than its deliveries for four consecutive quarters, as the graph above shows.
This has created finished goods inventory, some of which Tesla plans to liquidate in 4Q15. Tesla's finished goods inventory includes cars used in marketing activities as well as vehicles in transit. In its 3Q15 shareholder letter, Tesla's management stated that "to support higher Q4 deliveries, we increased vehicles in transit resulting in higher finished goods inventory at the end of Q3."
As of November 3, 2015, Tesla made up 0.62% of the iShares MSCI USA Momentum Factor ETF (MTUM).
2016 target
As 2016 approaches, Tesla is ramping up its production capacity to meet the rising demand. In its 3Q15 shareholder letter, Tesla said that the company has retooled its final assembly line, which should lead to 35% higher throughput. Tesla expects weekly production and deliveries of 1,600–1,800 vehicles starting in 2016.
We should finally note that Tesla's annual deliveries remain at only a fraction of what mainstream automakers including Ford Motor Company (F), General Motors Company (GM), and Fiat Chrysler Automobiles (FCAU) sell every year.
In the next part of this series, we'll explore more about the electric car demand.