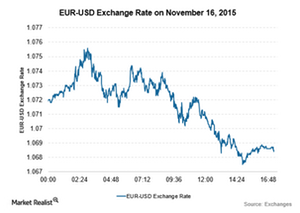 Euro Fell to 7-Month Lows Due to the Terror Attack in Paris
Euro fell due to the terror attack in Paris
The euro ended on a lower note against the US dollar on November 16, 2015. Investors discounted the expectations of a rise in the stimulus program by the ECB (European Central Bank) despite inflation levels returning to a positive trajectory in October. The policy divergence increased with the Fed. It's expected to increase its benchmark interest rates from next month due to better-than-expected employment data.
Article continues below advertisement
The euro is expected to remain under pressure. The terror attack in Paris also weighed on investor sentiment. A number of sectors including tourism, travel, and retail consumption could be affected in the coming days. France is pursuing air strikes against ISIS (Islamic State of Iraq and Syria) in Syria in a response to the terror attack. To learn about the downward bias in the euro on Friday, even as the GDP (gross domestic product) rose in the third quarter by 1.6% on an annual basis, read Euro Falls further after Paris Attack.
Eurozone's inflation returns to a positive trajectory
Consumer inflation in the Eurozone stood at 0.1% in October on a YoY (year-over-year) basis. It exceeded forecasts of flat growth. It also exceeded the month's deflationary rate of -0.1%. On a monthly basis, the inflation levels rose by 0.1% in October compared to a rise of 0.2% in September. The core inflation rate stood at 1.1% in October on a YoY basis. It was above last month's figure of 0.9%. It was also above expectations of 1.0% growth.
Impact on the market
The iShares Currency Hedged MSCI Germany ETF (HEWG) rose by 1.5%. Meanwhile, the iShares MSCI Germany ETF (EWG) also followed a similar trend and rose by 0.81% on November 16, 2015.
In terms of ADRs (American depositary receipts) trading on US exchanges, German ADR Deutsche Bank (DB) posted modest gains of 0.35% on November 16, 2015. The software company SAP (SAP) remained almost flat with a slight rise of 0.09%. Also, French ADR Alcatel-Lucent SA (ALU) posted significant gains. It rose by 2.8%. It recovered slightly from last week's losses.