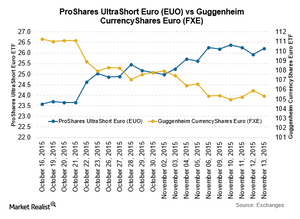 Euro Falls further after Paris Attack
By David Meyer

Nov. 16 2015, Updated 11:57 a.m. ET
Euro expected to be weak in aftermath of terrorist attack
The euro fell against the US dollar on November 13, 2015, even as positive economic growth in the Eurozone was reported on Friday. Also, the attack by militants in France that killed about 130 people hovers over the European markets this week.
France attracts more tourism than any other country. The attack might thwart tourism revenues in the Eurozone, thus reinforcing the stance by Mario Draghi, the ECB (European Central Bank) president, to expand the monetary stimulus program. The euro has maintained a weak trajectory against the US dollar as investors get ready for a dovish action by the ECB. The increase in the recent geopolitical risk is expected to have a further negative influence on the value of the euro against major currency peers.
Article continues below advertisement
Eurozone annual GDP growth rises
The GDP (gross domestic product) in the Eurozone expanded on a YoY (year-over-year) basis by 1.6% in the third quarter. This was higher than the 1.5% increase in the previous quarter but lower than forecasts of a rise of 1.7% for the quarter. On a quarterly basis, the expansion slowed to a 0.3% rise in the third quarter, as compared to a 0.4% increase in the previous quarter and expectations that GDP would remain constant.
While Germany and France saw their GDPs increase YoY by 1.8% and 1.2%, respectively, Finland and Greece saw contractions of 0.8% and 0.1%, respectively. On the other hand, the trade balance surplus widened to 20.5 billion euros in September against 17.4 billion euros last year, as exports rose 1% while imports dropped by approximately the same amount.
Impact on the market
The ProShares UltraShort Euro ETF (EUO), which is inversely linked to the euro, rose by 1.1% on November 13, 2015. By contrast, the Guggenheim CurrencyShares Euro ETF (FXE), which has a direct relation to the euro, fell by 0.51%.
In terms of German ADRs (American depositary receipts) trading on US exchanges, SAP AG (SAP) fell by 1.5%. The French ADR Alcatel-Lucent (ALU) fell by 2.0%, and the Finnish ADR Nokia Oyj (NOK) fell by 1.9%.