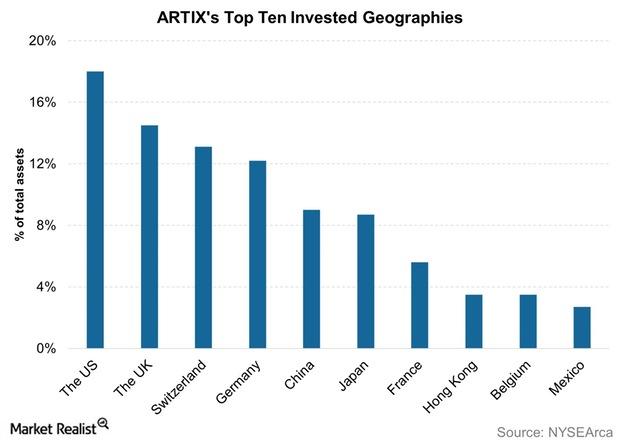 Essentials of the Artisan International Fund (ARTIX)
The Artisan International Fund
According to the investment team that manages the Artisan International Fund – Investor Class (ARTIX), the fund "seeks to invest in companies within its preferred themes with sustainable growth characteristics at attractive valuations that do not reflect their long-term potential."
The fund has been in existence since December 1995. As of the end of October 2015, it had been managing $18.9 billion in assets. As of the end of September 2015, it had just 70 holdings in its portfolio invested across 17 countries.
Article continues below advertisement
Sectoral and geographic breakdown
If you're invested in the Artisan International Fund – Investor Class (ARTIX), 21.2% of your money is invested into consumer discretionary stocks, according to the latest available sectoral breakdown as of October 2015. Stocks from the healthcare sector comprise 20.0% of the fund's assets, followed by the information technology sector, which forms 14.4% of the portfolio. Financials and consumer staples, in that order, round out the top five sectors in the fund. The fund is not invested in the energy sector, and utilities make up only 0.2% of the portfolio.
As of October 2015, the fund's geographic exposure shows that 18.0% of its investments go into stocks from the US. Stocks of companies from the United Kingdom form 14.5% of the fund's net assets, followed by Switzerland, which forms 13.1% of the portfolio. Germany and China follow, making up 12.2% and 9.0%, respectively.
China's Baidu, Inc. (BIDU) was the fund's single-largest holding, forming 4.8% of the fund's October 2015 assets. Medtronic plc (MDT), Bayer AG (BAYZF), Roche Holding AG (RHHBY), Toyota Motor (TM), and Tencent Holdings Limited (TCEHY) formed a combined 17.6% of the fund's assets for the month.
Fees and minimums
If you are interested in investing in the Artisan International Fund – Investor Class (ARTIX), you would need a minimum initial investment of $1,000. There's no minimum or specific amount needed to add to an account. The ARTIX is a no-load fund, with no sales charge levied while purchasing or any charge while redeeming. The fund house charges a short-term trading fee of 2.0% if investments are redeemed within 90 days. The expense ratio for the Investor Class is 1.15%.
Let's look at the Fidelity Advisor International Discovery Fund – Class A (FAIDX) in the next article.