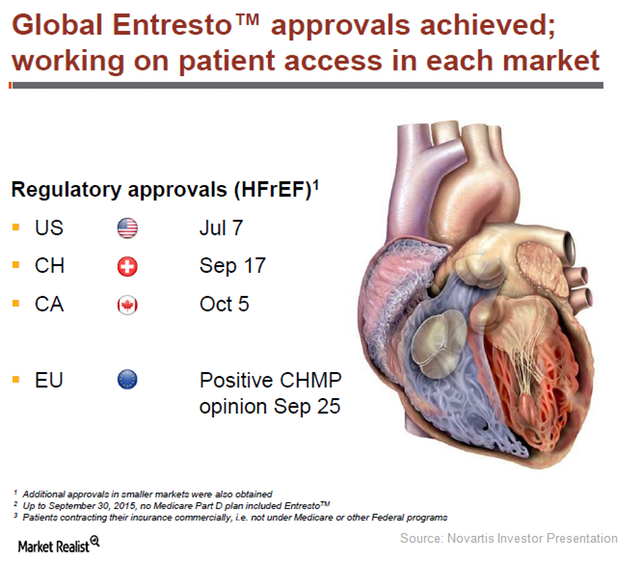 Entresto: First-in-Class Angiotensin Receptor Neprilysin Inhibitor
By Margaret Patrick

Dec. 14 2015, Updated 12:04 a.m. ET
Entresto
Entresto is the first-in-class angiotensin receptor neprilysin inhibitor therapy (or ARNI), which has been approved in the US and Europe for patients suffering from symptomatic chronic heart failure and reduced ejection fraction (or HFrEF). Entresto is administered as a tablet to be taken two times a day and works by reducing strain on the heart.
The above diagram shows the countries in which Entresto has already been approved and the respective approval dates. Based on its strong efficacy, Entresto is expected to displace angiotensin converting enzyme (or ACE) inhibitor therapy, which was considered to be bedrock treatment for about 20 years.
Article continues below advertisement
Entresto action
According to Novartis (NVS), "Entresto is a combination of a neprilysin inhibitor (sacubitril) and an angiotensin receptor blocker (valsartan) and reduces the strain on the failing heart. Entresto works by enhancing the protective neurohormonal systems of the heart (NP system) while simultaneously suppressing the harmful effects of the overactive renin-angiotensin-aldosterone system (RAAS).1 Other available medicines only block the harmful effects of the overactive RAAS."
US market performance
Priced at wholesale acquisition cost (or WAC) of $12.5 per day, Novartis's Entresto managed to earn about $16 million in the third quarter of 2015. The drug has also received positive feedback from both the physician and patient community. Novartis has been gradually working to obtain formulary access for Entresto both in Medicare Part D as well as in commercial insurer plans. Peer companies such as Amgen (AMGN), Regeneron (REGN), and Sanofi (SNY) are also actively involved in working on access programs for their innovative PCSK9 inhibitor cardiovascular drugs.
Investors can invest in Entresto through Novartis yet reduce excessive exposure to company-specific risks by investing in the Vanguard FTSE All-World ex-US ETF (VEU). Novartis accounts for about 0.5% of VEU's total holdings.