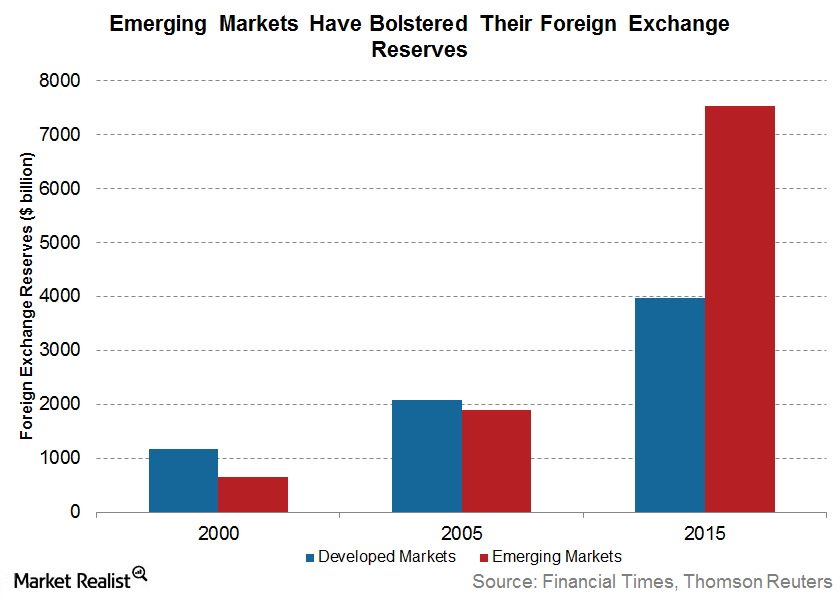 Value Investors, Emerging Market Equities Could Mean Opportunity
By Devan Kaloo

Nov. 20 2020, Updated 4:37 p.m. ET
Giant sums of money have been pumped into the financial system in an effort to stimulate economic activity. Although QE has driven up the price of bonds and shares, we wonder how much impact the policy has actually had on the real economy.
Regardless of that, what's happening with the central banks is not necessarily a damper on fundamentals. The central banks will eventually need to start normalizing interest rates. We expect the U.S. Federal Reserve (or Fed) to begin doing that later this year. We also expect central banks will stop adding to QE.
Article continues below advertisement
Once these processes are underway, we believe the storm will clear and investors will refocus on company fundamentals. This may then make the current markets an opportune time for investors to get into or stay in emerging markets. Emerging market valuations are trading at a discount to developed equities. Buying in cheap now could mean higher returns later.
That is why we remain confident that it's worth keeping the faith in emerging markets – because the fundamentals remain strong, valuations are at a discount and what emerging markets are facing now is a cyclical issue. Sooner or later, emerging economies will shift back. That's how cycles work.
Market Realist – Emerging market equities could provide opportunities for long-term investors. Emerging markets have now shored up their current account balances and bolstered their foreign exchange reserves. This should help the countries fare better against an imminent Fed rate hike and weather currency fluctuations.
Though fundamentals continue to look strong for emerging markets, investors should explore opportunities in the sector selectively. India (IFN)(PIN) continues to look like an attractive investment destination, with many things batting in its favor. Falling oil prices, a growth-oriented government, and a young working population all tilt the scales in India's favor. Read our series The Indian Equity Market's Recent History: An Overview to find out the recent developments in India's equity markets.
Article continues below advertisement
The Chinese retail and consumer sectors could remain boom sectors. The inclusion of US-listed Chinese companies in the MSCI Chinese index (MCHI) could offer some opportunities for investors as well. According to Credit Suisse, Alibaba (BABA) will become the sixth-largest stock on the index with a weighting of 3.8% in November and 6.9% in May 2016. Credit Suisse estimates Baidu (BIDU) to be the second-largest beneficiary, with possible inflows of as much as $967 million (Source: Credit Suisse, Barron's). Internet stocks like Sina (SINA) and Youko Tudou (YOKU) are likely to be included and could benefit from the move.
Investors should be wary of investments in Latin American emerging markets (LAQ) like Brazil. Being a net exporter of commodities, Brazil has been hurt by the recent slump in commodities. The IMF estimates that the GDP for Brazil will decline by 1% in 2016. Moreover, the country has lost its investment-grade status, and worries of a sovereign default are on the horizon.
Investors should exercise caution while investing in Turkey as well. The Institute of International Finance recently stated in a report:
"Countries most in jeopardy from emerging-market turbulence include those with large current account deficits, questionable macro-policy frameworks, large corporate foreign exchange liabilities, and acute political uncertainties. Brazil and Turkey combine these features."
Emerging markets (FEO) may offer good opportunities for long-term investors. However, investors need to understand that not all emerging markets are equal. Selectivity is crucial.
Read our series Don't Feed the Bears: Global Growth and Asian Markets to explore more about how you can find opportunities in Asian emerging markets.