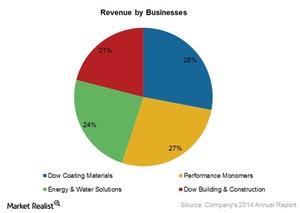 Dow's Infrastructure Solutions Segment's Business Model
By Steve Ariel

Updated
Segment snapshot
The Dow Chemical Company (DOW) provides insulation solutions, functional ingredients, and purification and separation technologies. Dow's Infrastructure Solutions segment contributed to 15% of Dow's revenue and to 9% of Dow's EBITDA (earnings before interest, tax, depreciation, and amortization) in 2014. The segment's four businesses are Dow Building & Construction, Dow Coating Materials, Energy & Water Solutions, and Performance Monomers. Key products include acrylic thermosetting resins, latex powders, foam insulation, adhesives, polymers, heat transfer fluids, and vinyl acetate monomers. These products are primarily used in architectural and industrial coating applications, building insulation, adhesives, microbial protection for the oil and gas industry, and water technologies. The Infrastructure Solutions segment is well positioned to capitalize on growing demand, primarily on account of its strong R&D (research and development), advanced technology, and extensive geographic reach.
Article continues below advertisement
Business overview
Dow Building & Construction – Dow provides infrastructure solutions to improve the energy efficiency of residential and commercial buildings. Dow offers a broad range of insulation solutions and functional ingredients that provide air sealing, weatherization, and fire retardancy for construction products. Key products and brands include its AQUASET acrylic thermosetting resins, FROTH-PAK foam insulation and sealants, and RHOPLE and PRIMAL acrylic polymer emulsions.
Dow Coating Materials – Dow supplies raw materials for architectural and industrial coating applications. This segment serves the paints, paper, leather, concrete, wood, automotive, maintenance, and protective industries. Major brands include ACRYSOL, AVANSE, EVOQUE, RHOPLEX, and TAMOL.
Performance Monomers – Performance Monomers include specialty monomer products, principally used as building blocks for the downstream polymer business. The captive use of monomers within the segments helps Dow stay competitive in the current declining price environment. Key product applications include cleaning materials, personal care products, paints, coatings, and inks.
Energy & Water Solutions – This business provides products and solutions across the oil and gas supply chain as well as water treatment and purification. Key product offerings included emulsifiers, drilling and completion fluids, microbial and scale control products, ion exchange resins, and water clarifiers.
In the infrastructure space, DuPont (DD), PPG Industries (PPG), and Ashland (ASH) are major players. In terms of product portfolios, they are better placed than Dow in this segment.
The iShares US Basic Materials ETF (IYM) primarily focuses on chemical industry stocks. DuPont makes up the second-highest percentage holding of IYM.