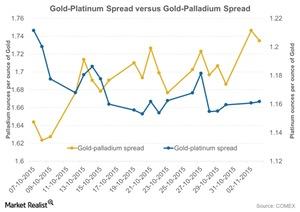 How the Dollar's High Jump Pushes Precious Metals Down
Spread measures
Precious metals have overall seen a volatile past month, but on November 4, 2015, palladium was the biggest loser. Gold, silver, and palladium lost 2.80%, 4.90%, and 12.10%, respectively. Platinum, however, emerged strong, its prices having duly recovered from the spooked markets due to the hot Volkswagen emissions scandal.
Meanwhile, precious metals spread measures like the gold-platinum spread and gold-palladium spread have also seen volatility in their prices since the Volkswagen scandal. These spreads measure the number of platinum or palladium ounces required to buy a single ounce of gold. Price changes in gold as well other precious metals can cause significant changes in these spread measures.
The below chart shows the past month performance of platinum and palladium with respect to gold as of November 3, 2015.
Article continues below advertisement
The surging US dollar
The US dollar rose sharply on November 4, 2015, as Federal Reserve Chair Janet Yellen further hinted that the central bank would most likely raise interest rates next month. However, the overall economy needs to improve in order to accommodate the intended liftoff. But the US dollar index, which is denoted by the DXY currency, ended the day negative, losing a marginal 0.10%.
In fact, all precious metals ended November 4 in the red following the positive data from the US trade balance. The trade balance, which determines the difference in value between imported and exported goods and services during the month, stood at almost 40.8 billion on November 4—less than the forecasted figure. We should keep in mind, though, that fewer goods imported into the country is actually good for the economy, pushing haven securities lower.
ETF reactions
Meantime, the drop in the price of the precious metals has also caused ETFs backed by these securities to retreat. ETFs like the iShares MSCI Global Gold (RING) and the Global X Silver Miners ETF (SIL) have dropped by 5.50% and 6.90%, respectively. Mining companies that saw falls in stock as of November 4 include Barrick Gold Corporation (ABX), AngloGold Ashanti (AU), and Compania de Minas Buenaventura (BVN).
These three stocks together make up 14.505 of the VanEck Vectors Gold Miners ETF (GDX). The GDX indicator itself dropped almost 6.40% on a 30-day trailing basis as of November 4, 2015.