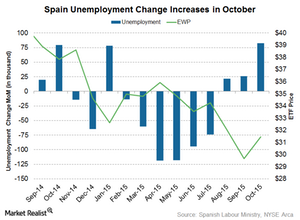 Decline in Services Increases Spain's Unemployment in October
Spain's unemployment rises by 82.3 thousand in October
Employment figures are crucial to understanding labor market conditions in any economy. With an easing in the service sector, Spain's unemployment rose by 82.3 thousand in October against a rise of 26.1 thousand in September. This is the highest since October 2013 and much above the consensus estimate of 70.3 thousand.
Article continues below advertisement
EWP declines with increasing unemployment
With an increase in unemployment for the third straight month, the iShares MSCI Spain Capped ETF (EWP) declined 8.2% over the past three months. EWP has lost 14.8% from a year ago as of November 3.
Top Spanish ADRs (American depositary receipts) Banco Santander (SAN), Telefónica (TEF), Repsol (REPYF), Banco Bilbao Vizcaya Argentaria (BBVA), and Grifols (GRFS) were up 1.3%, 6.6%, 12.3%, 4.3%, and 11.6%, respectively, over the past month as of November 3.
Released monthly by Spain's National Statistics Bureau, October unemployment data highlight an increase in unemployment in services by 61.0 thousand, or 2.3%, and in agriculture and fisheries by 21.6 thousand, or 11.9%. For industries, it increased a mere 2.9 thousand, or 0.74%. Construction activity unemployment saw a decline of 3.8 thousand, or 0.85%, in October.
Spain's full-time permanent contracts increased by 14.2% for the first ten months of the year compared to the same period in 2014. A double-digit increase in permanent contracts reflects the strength of the labor market. The labor market in Spain is facing a structural issue rather than a cyclical one.
Spain's unemployment rate staying at the highest level of 21.2% isn't good for the economy. It will jeopardize the overall growth of the country and remains the biggest concern for policymakers. Employment data are influenced by economic activity strength in the economy. The Eurozone composite outlook index is out. Let's look at it in the next article.