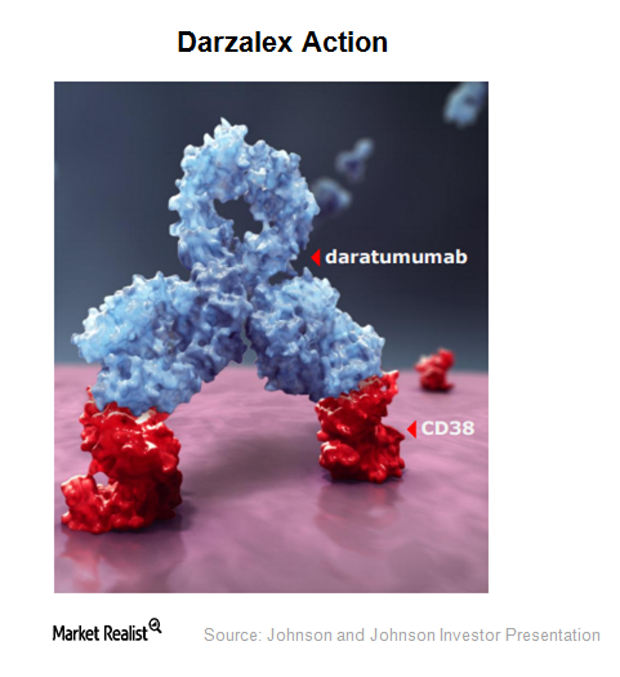 Darzalex: FDA Approved Human Anti-CD38 Monoclonal Antibody for MM
By Margaret Patrick

Nov. 21 2015, Updated 10:05 a.m. ET
Darzalex
Johnson & Johnson's (JNJ) Darzalex (daratumumab) is the first anti-CD38 monoclonal antibody to be approved by the US Food and Drug Administration for multiple myeloma (or MM). Because the drug is approved for MM patients who have received at least three prior lines of treatment, it targets a very small segment of the MM population. This allowed the drug to be granted orphan drug designation by the FDA.
According to the FDA, "Orphan drug designation provides incentives such as tax credits, user fee waivers and eligibility for orphan drug exclusivity to assist and encourage the development of drugs for rare diseases."
Article continues below advertisement
Darzalex action
Based on data presented from the Phase 1B study, in the 56th American Society of Hematology (or ASH) Annual Meeting and Exposition, experts have projected that anti-CD38 monoclonal antibodies could prove to be blockbuster therapies for MM.
An antibody is an agent produced by the body's immunological system to identify pathogens or cancer-causing agents. Because cancer cells belong to the patient's body, the body's immune system doesn't produce antibodies to identify these cells. Monoclonal antibodies are developed to identify cancer cells and are then introduced into the body.
Anti-CD38 monoclonal antibodies such as Darzalex bind to the CD38 antigen present on the surface of the cancer cells. This stimulates the patient's immune system to attack the cancer cells.
Darzalex is expected to be a significant addition to the existing suite of MM drugs, including Celgene's (CELG) Revlimid and Pomalyst, Novartis's (NVS) Farydak, and Amgen's (AMGN) Kyprolis.
Investors can invest in the future prospects of Darzalex through Johnson & Johnson, yet reduce excessive exposure to company-specific risks by considering the iShares Core S&P 500 ETF (IVV). Johnson & Johnson accounts for about 1.6% of IVV's total holdings.