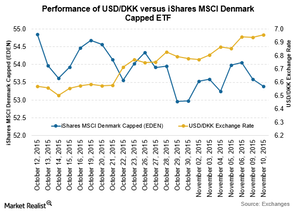 Danish Krone Fell and Inflation Was below the Forecasts
By David Meyer

Updated
Danish krone fell
The Danish krone fell against the US dollar on November 10, 2015. The inflation figures for October were below the expectations. Danmarks Nationalbank (DN) has been keeping lending rates low at 0.10%. It has been keeping negative interest rates on certificates of deposits at -0.75%. The recent dovish statements by the ECB's (European Central Bank) president, Mario Draghi, due to sluggish growth in the Eurozone, are expected to put pressure on non-euro economies. They will likely be pressured to match their central bank monetary policies with the market dynamics. The US dollar-Danish krone pair ended the day on a higher note by 0.25%. It showed depreciation in the Danish currency.
Article continues below advertisement
Consumer inflation slowed in October
On an annual basis, the consumer inflation in Denmark rose by 0.4% in October. This was a slower rate compared to September's rise of 0.5%. It was expected to remain in line with the consumer inflation in September. In contrast, the trade balance released on Monday. It recorded a surplus of 6.4 billion Danish krone in September compared to a surplus of 4.3 billion Danish krone in August.
Impact on the market
Looking at the movement in the ETFs, the iShares MSCI Denmark Capped ETF (EDEN) extended its loss on November 10, 2015. It fell 0.37%. On the other hand, the iShares MSCI Sweden ETF (EWD) fell by 0.97%.
Among the Danish ADRs (American depositary receipts), Novo Nordisk B (NVO) rose 0.20%. Among the Scandinavian ADRs, Swedish company LM Ericsson Telephone (ERIC) ended on a negative note by 6.3%. Dutch company Koninklijke Philips Electronics (PHG) ended negatively. It fell by 0.71%.