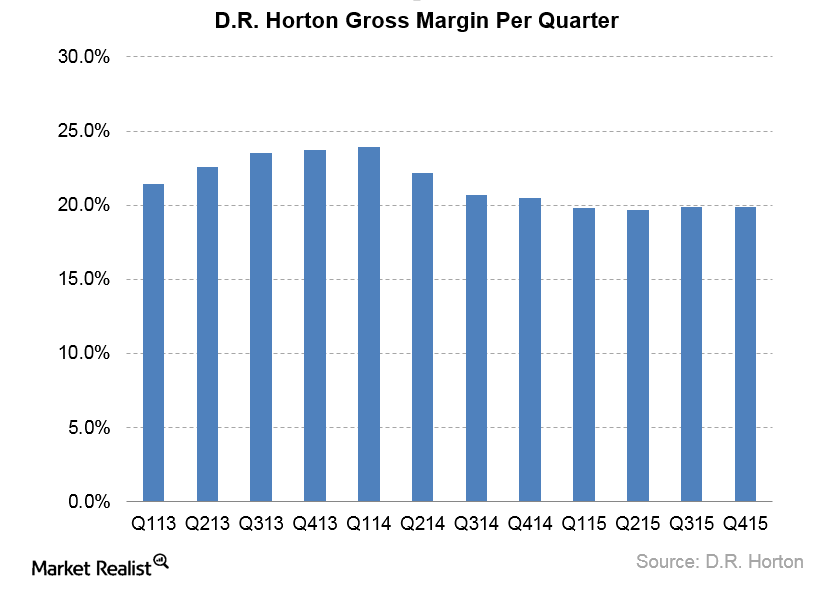 D.R. Horton Maintained Its Gross Margins
D.R. Horton's gross margins 
Like most of the other builders, D.R. Horton (DHI) has been reporting lower gross margins. This has been due to sticker shock. Home prices have been increasing, but wage growth has been stagnant. Historically, home price appreciation has correlated tightly with income growth. In fact, it wasn't until 2000 when the ratio of median home price to median income broke out of its historical 3.2x–3.6x range.
D.R. Horton's gross margins held steady at 19.9% in the fourth quarter of 2015. However, they fell on a YoY (year-over-year) basis from 20.5% in the fourth quarter of 2014.
Note that as D.R. Horton's Express Homes brand rolls out, gross margins are expected to fall due to product mix. Express Homes' ASP (average selling price) is around $185,000, and gross margins are lower. On a sequential basis, Express Homes' ASP fell from $191,500 to $185,000.
"Sticks and bricks," or materials costs, have been increasing more or less in line with ASP on a per-square-foot basis. Lower energy prices are certainly helping here. While lower oil prices certainly help with building products such as asphalt shingles, lumber has been steady.
Finally, we've been seeing wage inflation in skilled trades. Labor shortages have been an issue for a few years and should continue to be a problem.
Article continues below advertisement
Home price appreciation is moderating, costs are rising, and incentives are returning to normal levels. Other builders such as Lennar Corporation (LEN) have reported decreasing gross margins as buyers experience sticker shock and refuse to continue to pay up. On the other hand, PulteGroup's (PHM) gross margins have been flat. Thus, changes in margins have been varying across builders, but the general trend is downward.
Prices and costs
Builders have benefited from a dearth of inventory over the last few years. The overbuilding of the bubble years has been corrected, and lately builders have been underbuilding. This has helped support home prices.
Another reason for the shift has been the move to lower price points. The first-time homebuyer now accounts for 40% of D.R. Horton's sales, which is about in line with historical norms. Starter homes have lower margins than big McMansions. For the past several years, the luxury end of the market—think builders such as Toll Brothers (TOL)—was outperforming the lower price points. That said, D.R. Horton has been happy with the rollout of its own luxury brand, Emerald Homes. Investors who would like general exposure to the homebuilding sector can consider the SPDR S&P Homebuilders ETF (XHB).