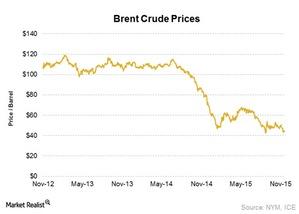 How the Crude Tanker Industry Benefits as Crude Oil Prices Fall
By Sue Goodridge

Updated
Crude oil prices
Brent crude oil prices ranged from $43 per barrel to $50 per barrel from the start of November until November 20, 2015. Crude oil (DBO) prices impact crude oil demand, which in turn affects freight rates and bunker fuel prices.
Article continues below advertisement
Oil demand and tanker rates
Lower oil prices encourage countries, especially China, to import larger quantities of cheap oil to store for future use. This increases crude tanker demand, which in turn has a positive impact on tanker rates. Higher freight rates benefit the crude tanker industry.
Bunker fuel prices
Bunker fuel prices, the biggest cost to run a ship, are correlated to crude oil prices. From November 1 to November 20, 2015, the average bunker fuel price was recorded to be $231 per ton, compared to $242 per ton in October 2015. Bunker prices were lower by almost 50% compared to November prices in 2014.
Lower bunker prices reduce operating costs and increase profits for companies such as Frontline (FRO), Teekay Tankers (TNK), Tsakos Energy Navigation (TNP), Nordic American Tankers (NAT), DHT Holdings (DHT), and Euronav (EURN).
Oil Price expectations
The EIA (U.S. Energy Information Administration) published its Short-Term Energy Outlook on November 10, 2015. Last month, the EIA forecast that Brent crude oil prices would average $54 per barrel in 2015.
In November's report, this forecast remained unchanged, though the EIA lowered its crude oil price forecast for 2016 by $2 per barrel. Now the forecast for 2016 stands at $56 per barrel.