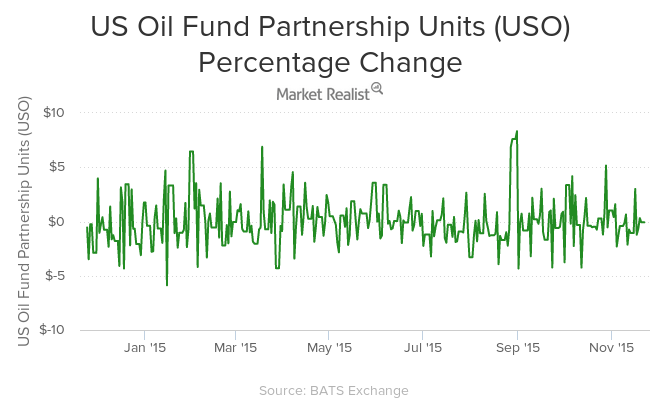 Crude Oil Prices Fell, USO Fund Flow Hit a Record
Crude oil prices fell again 
WTI (West Texas Intermediate) crude oil futures contracts for December delivery fell slightly by 0.37% and settled $40.39 per barrel on November 20, 2015. Prices were volatile for the second day due to short covering and expiry. ETFs like the United States Oil ETF (USO) and the ProShares Ultra DJ-UBS Crude Oil ETF (UCO) also moved in the direction of US WTI crude oil prices. These ETFs fell by 0.23% and 0.73%, respectively, on Friday, November 20, 2015.
[marketrealist-chart id=835818]
Article continues below advertisement
Short covering and expiry 
December WTI oil futures contracts expired on November 20, 2015. US crude oil prices reacted to the expiry. The front month contracts and next month's futures contracts spread hit the widest spread in the last four years. It suggests that more crude oil supplies will add to the oil glut market. The oversold crude oil market also saw short covering. Traders covered their short positions due to the oversold territory. However, the strengthening US dollar weighed on crude oil prices. Oil prices traded marginally lower on Friday, November 20, 2015.
Oil companies' bankruptcy
Crude oil prices' collateral damage impacted many oil and gas companies' cash flows. A recent study by the Wall Street Journal projected that 37 energy companies filed for bankruptcy protection as of November 2015. The companies' debt amounted to $13.1 billion. The uncertainty in the oil prices, mounting debt, and speculation of an interest rate hike by the Fed will play a vital role in oil and gas companies' sustainability.
Article continues below advertisement
In its recent report, Goldman Sachs (GS) suggested that in the worst-case scenario oil prices might hit $20 per barrel due to record global inventories. Prices hitting this mark could lead to collateral damage for oil and gas companies. Mergers and acquisitions are in full swing in the energy market. The long-term lower oil prices could erase some of the small independent energy companies from the oil industry. However, energy giants like Total (TOT), Eni (ENI), BP (BP), and Shell (RDS.A) are working to cope with the depressed energy market by laying off employees, cutting spending, and idling high-cost wells.
USO funds 
Despite the catastrophic fall in the crude oil prices, the United States Oil Fund LP ETF (USO) saw net inflows on Friday. USO saw a net inflow of $717.8 million in November 2015 and $283 million in October 2015. USO's total assets hit $3,217 million as of Friday, November 20, 2015. It's the highest level since 2006. The mounting fund flow into USO suggests that the US crude oil prices could stabilize. Meanwhile, USO fell by 27.7 YTD (year-to-date) and 58.9 in the last year. Likewise, US crude oil prices fell 22.9% YTD due to excess oil supply concerns. The volatility in the energy market impacts ETFs like the iShares US Oil Equipment & Services ETF (IEZ) and the Fidelity MSCI Energy (FENY).
In this series, we'll look at crude oil prices and fundamentals. For an in-depth fundamental look at oil and gas and related companies, sectors, and drivers, visit Market Realist's Energy and Power page.