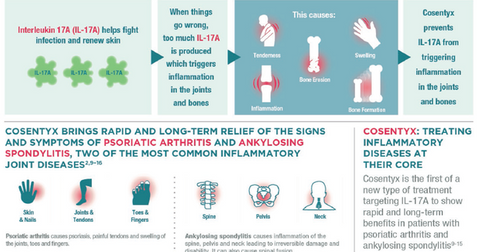 Novartis's Cosentyx: Europe's First IL-17A Inhibitor for Some Uses
By Margaret Patrick

Updated
Cosentyx
Novartis's (NVS) Cosentyx (secukinumab) is the first interleukin-17A (or IL-17A) inhibitor available in Europe for ankylosing spondylitis (or AS) and psoriatic arthritis (or PsA). Novartis claims that, after the development of anti-tumor necrosis factor (anti-TNF) therapy, which is the current standard of care, Cosentyx is the first new medication for AS in 16 years. Cosentyx has already gained approval in 50 countries for moderate to severe plaque psoriasis.
Article continues below advertisement
The above diagram explains how Cosentyx, an IL-17A inhibitor, works to prevent inflammation caused by AS and PsA. According to Novartis, "Cosentyx is a human monoclonal antibody that selectively neutralizes circulating IL-17A." Novartis further explains, "Interleukin-17A (IL-17A) is one of over a dozen proteins in the body that act like 'messengers' to coordinate communication between immune cells, called cytokines1-6. These cytokines usually work by signaling to infection-fighting cells that they need to mount an immune response once a foreign invader has been detected."
In patients with autoimmune diseases such as psoriasis, PsA and AS, IL-17A is found in higher concentration compared to normal people. Here IL-17A results in overactive immune system, which further leads to inflammation. IL-17A inhibitors work by blocking IL-17A proteins, inhibiting the unwanted activity of the immune system.
Other IL-17A inhibitor drugs
Amgen (AMGN) and Astrazeneca (AZN) were involved in a collaboration agreement to develop Il-17A inhibitor drug, brodalumab, for the treatment of psoriasis and other inflammatory conditions. However, on May 22, 2015, Amgen announced it would terminate its collaboration with Astrazeneca and cease to participate in the co-development and commercialization of brodalumab. Amgen cited that patients tested with this drug showed "events of suicidal ideation and behaviour" that will result in restrictive labeling for the drug.
On September 1, 2015, Astrazeneca entered into a collaboration agreement with Valeant Pharmaceuticals and granted the license to develop and commercialize brodalumab to Valeant Pharmaceuticals.
Eli Lilly (LLY) is also developing a IL-17A inhibitor drug, Ixekizumab, as a psoriasis therapy. If approved, it could compete with Novartis's Cosentyx.
Investors can invest in the future prospects of IL-17A inhibitor therapy through Novartis and reduce excessive exposure to company-specific risks by investing in the Pharmaceutical ETF (PPH). Novartis accounts for about 7.1% of PPH's total holdings.