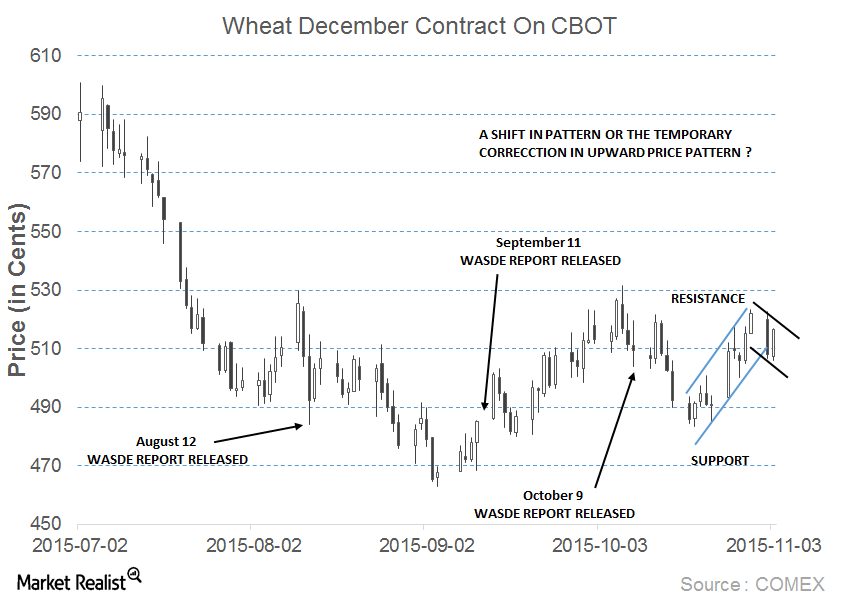 Is There a Correction or a Shift in Wheat Prices?
Trend channel
The December CBOT (Chicago Board of Trade) wheat futures prices traded near the important support level of $5.15 per bushel on November 3, 2015. The steep fall on November 2 and supportive climb on November 3 highlight the struggle between the push and pull factors. The price action in the next two days will only determine if it was a temporary correction or a shift in the price pattern.
Article continues below advertisement
Factors that are driving wheat
The weather conditions and wheat availability around the world are favorable. Ample supply and inventories would push wheat prices down. Weaker demand sentiment might also keep the prices under pressure in the near term. The weather in the EU (European Union) has supported the wheat crop. The extended dry weather in China is expected to break. Rain would support the quality and quantity of the wheat crop. In US Great Plains, the northern regions are expecting rain until November 5. This could support the wheat supply sentiment.
However, the pull factors for wheat prices have equal strength. The weather in the Black Sea region has been dry. In Russia, the weather has been cool and dry. This would impact the wheat output. About half of the crop is expected to be poor or fair. The western region in Australia is also fighting dry conditions. It could have negative output revisions. The southern and central regions in the US Great Plains will continue to suffer from dry weather. These factors would support the wheat futures prices.
The supply might receive support, but the steep change in the weather might pull wheat prices up. The fluctuation in wheat prices could be $5.05–$5.25. The prices are expected to rise.
Ticker discussion
After three days of meager advances in J M Smucker's (SJM) share prices, it fell on November 3, 2015, by 0.18%. However, General Mills (GIS) followed its two-day price fall on November 3, 2015. Hormel Foods (HRL) and ETFs like the Material Select Sector SPDR ETF (XLB) rose slightly on November 3, 2015. Pilgrim's Pride (PPC) continued to rise for the third consecutive day. It rose at a higher rate than the day before.