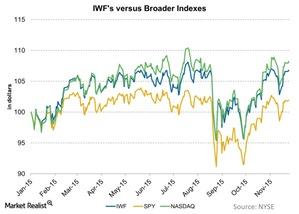 A Comparative Analysis: IWF Relative to the Broader Markets
By Ivan Kading

Dec. 6 2015, Updated 4:05 p.m. ET
IWF's top holdings
The iShares Russell 1000 Growth ETF (IWF) seeks to mimic the market price movement of the Russell 1000 Growth Index. As implied by the name, the index is composed of stocks with high growth potential in their market capitalization. Apple (AAPL), Amazon (AMZN), Microsoft (MSFT), Facebook (FB), and Alphabet (GOOGL) are the top five holdings of IWF. These top five holdings constitute 15.2 of its total portfolio and have a significant impact on its performance.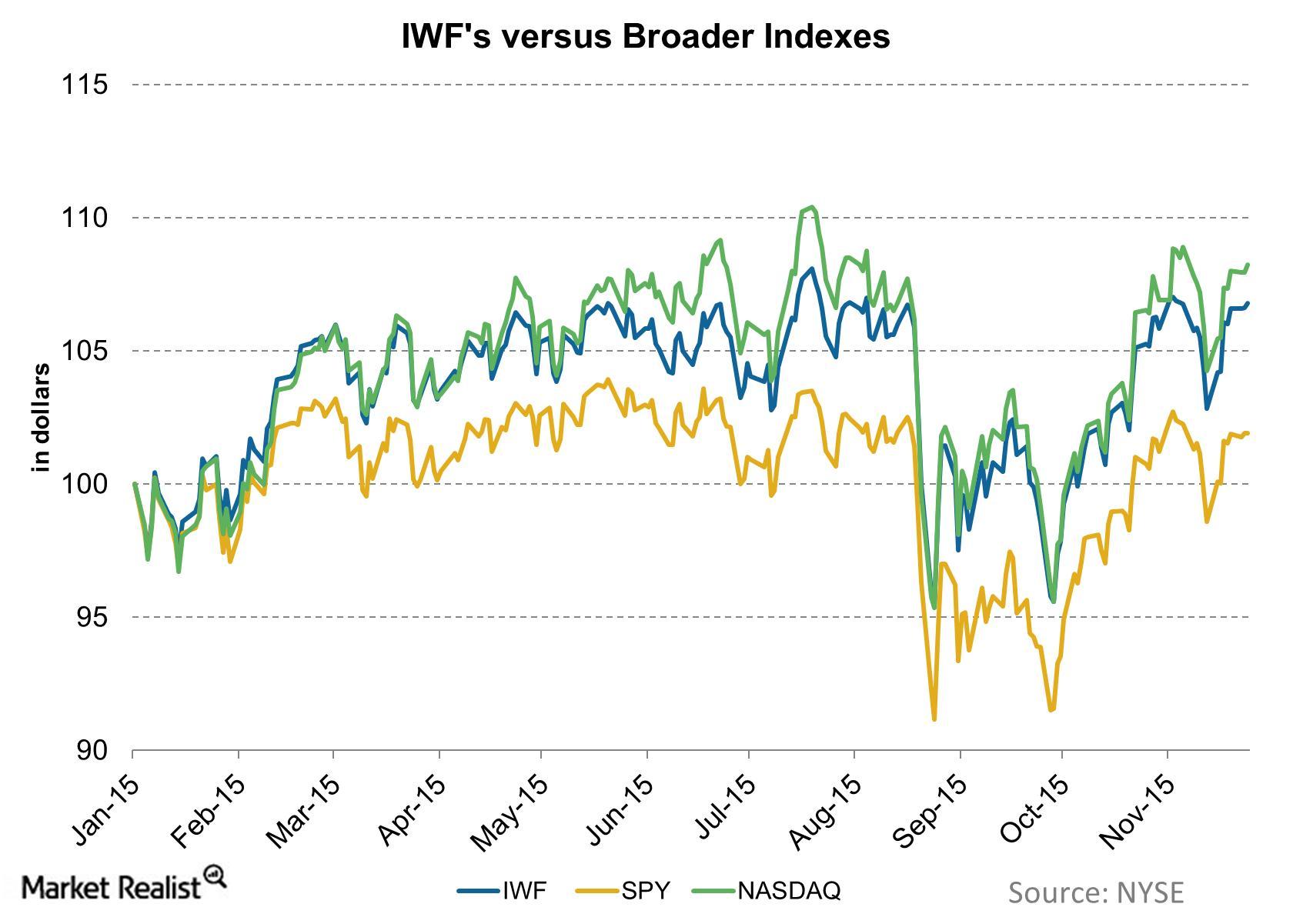 Article continues below advertisement
Strong performer
The line chart above provides a graphical representation of the year-to-date (or YTD) price movement of $100 invested in IWF and major broader indexes such as the S&P 500 Index (SPY) and the NASDAQ. Clearly, IWF has outperformed the other two indexes by giving a total YTD return of 7.8% higher than the market return of 3.3% of SPY. The NASDAQ has given higher YTD return of 8.3% but is also more volatile compared to the other two ETFs.
Returns
Potentially, one of the primary reasons for why IWF outperformed the S&P 500 is the high performance of IWF's holdings. Amazon, one of the top-weighted stocks in the IWF portfolio with a weight around 2.4%, has given a trailing-12-month return of 102.5% to its investors. Also, Facebook and Alphabet have performed positively in the market with total trailing-12-month returns of 35.8% and 40.5%, respectively, to investors. On the other hand, Apple has given a negative trailing-12-month return 0.82% to its investors.
Among the 646 holdings of IWF, 283 have given negative returns to their investors whereas the remaining 363 have given positive returns.