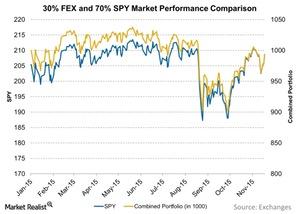 A Comparative Analysis of the FEX and SPY Portfolios
Negative performance
The First Trust Large Cap Core AlphaDEX ETF (FEX) follows the index movement of the Defined Large Cap Core Index. FEX has performed negatively in the market with a year-to-date (or YTD) return of -1.8%. The primary reason for FEX's poor performance is its sensitive-to-market alpha holdings.
The market has seen a correction phase this year, which adversely affected the returns of these alpha holdings. FEX has given a total annualized return of 6.00% to its investors since its inception. The top five holdings of FEX are Amazon (AMZN), First Solar (FSLR), Murphy Oil Corp. (MUR), NVIDIA Corp (NVDA), and Applied Materials (AMAT).
Article continues below advertisement
Reduced performance
The above chart presents the year-to-date performance of a mock portfolio of 30% FEX and 80% SPY, compared with the market itself to better understand the effect of FEX in one's portfolio. Due to the negative returns of FEX this year, the portfolio has observed a reduced performance.
As of November 19, 2015, the year-to-date (or YTD) return of the combined portfolio is 1.56%, which is lower than the YTD market return of 3.0%.
Conclusion
Different types of smart beta ETFs behave differently in the market. A low volatility smart beta ETF is beneficial during a falling market, and a high alpha or beta fund such as FEX can be an investment option during a booming market.
The primary aim of any smart beta fund is to provide low-cost, quality investment options. Potential investors should thoroughly study of each type of smart beta fund before moving forward.