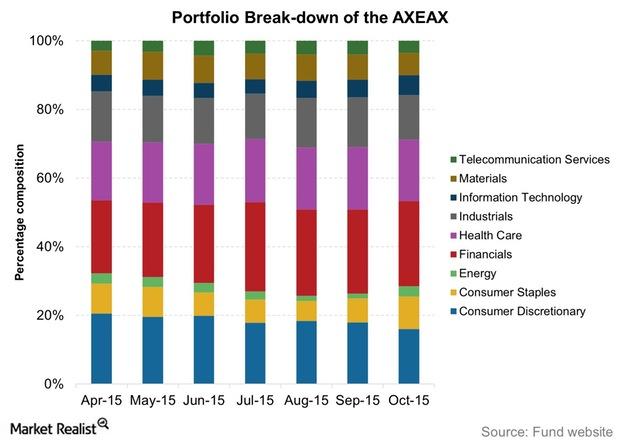 How the Columbia European Equity Fund Fared until October
The Columbia European Equity Fund
The Columbia European Equity Fund – Class A (AXEAX) seeks capital appreciation by investing in "equity securities of European companies that are believed to offer growth potential. Under normal market conditions, the Fund invests at least 80% of its net assets (including the amount of any borrowings for investment purposes) in equity securities of European companies."
The fund's management can invest in securities of companies based out of developing or emerging markets. However, the bulk of the portfolio will be invested in securities of companies located in developed economies.
Article continues below advertisement
The fund was invested across 64 holdings as of October 2015. Also, it was managing assets worth $568 million. As of the September portfolio, its top ten equity holdings included Novartis (NVS), Roche Holding (RHHBY), Bayer (BAYZF), Prudential Financial (PRU) and BT Group (BT), comprising 15.1% of the fund's portfolio.
Historical portfolios
For this analysis, we'll be considering holdings as of September 2015, as that is the latest available sectoral breakdown with us. The holdings after September reflect valuation-driven changes to the portfolio and not actual holdings. In the graph above, the sectoral composition for September 2015 has been taken from the fund house's website.
Over the course of the one-year period ended October 2015, fund managers increased the weight of consumer discretionary stocks to as high as 20% of the fund's total assets. However, at present, the same stands reduced to 16%.
The consumer staples sector is making a comeback. Exposure to the sector stood at 11.5% in October 2014 but was reduced to ~6% intra-period. As of the latest details, the sector forms 9.5% of the fund's assets.
Financials also found more portfolio space and make up nearly 25% of the fund's assets compared to less than 20% a year ago. Fund managers have added securities from the sector in the past year. The information technology and materials sectors also had a similar treatment.
How have these sectoral moves impacted the performance of the fund? We'll look at that in the next article.