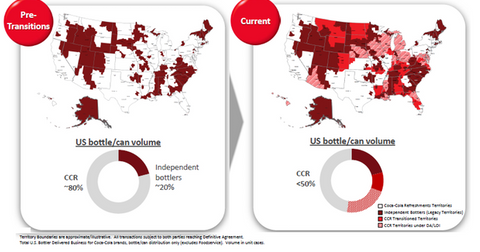 How Coca-Cola Is Creating an Asset-Light Model by Refranchising
By Sirisha Bhogaraju

Updated
Refranchising efforts
At the Morgan Stanley Global Consumer and Retail Conference held on November 17, Sandy Douglas, president of Coca-Cola North America, stated that Coca-Cola (KO) recently completed the transition of several territories to Coca-Cola Bottling Company Consolidated (COKE), Coca-Cola Bottling Company United, High Country, and Ozarks Coca-Cola Bottling Company.
Coca-Cola began refranchising to reduce its exposure to low-margin, capital-intensive bottling operations, creating a more asset-light model. Coca-Cola and PepsiCo (PEP) have extensive bottling and distribution networks. Smaller players like Dr Pepper Snapple (DPS) rely on these beverage giants for the distribution of some of their brands. With the completion of its strategic deal with Monster Beverage (MNST), Coca-Cola will now be the preferred distribution partner for Monster.
Article continues below advertisement
Transition in bottling operations
As the graphic above shows, prior to refranchising, Coca-Cola Refreshments (or CCR) accounted for 80% of Coca-Cola's bottle-can volume in the United States. Taking into account all the territories that have either transitioned or been part of agreements, we see that CCR now accounts for less than 50% of Coca-Cola's US bottle-can volume.
At the Morgan Stanley Global Consumer and Retail conference, Sandy Douglas provided an update on the National Product Supplier Group (or NPSG), whose formation was initially announced in September 2015. Effective January 1, 2016, the NPSG will administer the national product supply system (or NPSS), which aims for lowest optimal manufactured and delivered costs for all bottlers in the Coke system.
Sandy Douglas also stated that the NPSG has already chosen its board chair and president. The NPSG Board members are Coca-Cola North America, CCR, Coca-Cola Bottling Co. Consolidated, Coca-Cola Bottling Company United, and Swire Coca-Cola USA. These entities together represent about 95% of US production volume.
Coca-Cola continues to accelerate the refranchising of its bottling operations. On October 21, the company signed letters of intent with Coca-Cola Beverages Florida, Great Lakes Coca-Cola Distribution, and Atlantic Coca-Cola Bottling Company to grant expanded distribution territories in seven states. With these letters of intent, territories transitioned to date or included in agreements represent over 30% of Coca-Cola's US bottle-can volume.
Coca-Cola constitutes 0.8% of the holdings in the iShares Russell 1000 ETF (IWB).