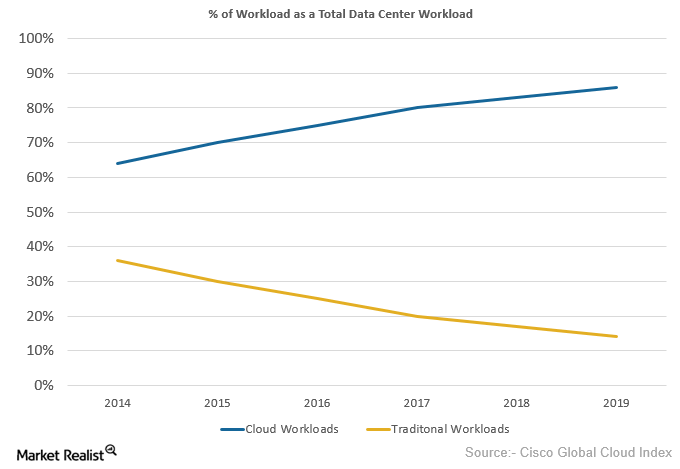 Cloud Workloads Expected to Grow Threefold
Virtualization drives cloud workloads
Online transactions from the banking, retail, and e-commerce sectors are driving a significant amount of Internet traffic, increasing server workload. Workload is the amount of processing that computers require to complete tasks.
According to the Cisco Global Cloud Index report, by 2019, approximately 86% of all workloads will be moving from traditional data centers to cloud data centers. The cloud's virtualization of computer resources such as operating systems, networks, and storage allows for processing on a more dynamic basis. Moreover, virtualization allows corporate clients to do away with spending on physical resources.
Article continues below advertisement
The expected threefold increase in cloud workloads is due to the fact that virtualization allows multiple workloads to execute at a time, whereas traditional data centers execute one workload per server. The increase in server capacity, along with security at a reasonable cost, will encourage workload migration across and within data centers. As the above chart shows, by 2019, cloud workload as a percentage of total data center workload will increase to 86%, with only 14% of the workload being managed through traditional data centers.
Traditional data center growth to decline
Cloud workloads are expected to grow more than 200% from 2014 to 2019, whereas traditional data center workloads are expected to see a CAGR (compound annual growth rate) decline of 1%. Netflix announced the closure of its last traditional data center this year, shifting all of its IT (information technology) operations to the public cloud.
The SPDR S&P 500 ETF (SPY) is a portfolio of 507 stocks. Its top four stocks, Apple (AAPL), Microsoft (MSFT), ExxonMobil (XOM), and General Electric (GE), constitute 3.6%, 2.3%, 1.9%, and 1.7% of the fund, respectively.