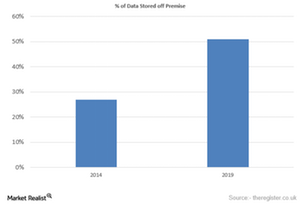 Cloud Storage Increases Along with the Risk
The majority of data is stored off-premise
Companies are shifting their traditional way of storing data from physical devices to a virtual cloud storage. Cisco's new Global Cloud Index (or GCI) report for 2014–2019 shows that by 2019, companies will no longer be storing the majority of their data on-premise. In 2014, approximately 73% of data was being stored on clients' premises, while 51% of the data will be stored off-premise by 2019.
The move to store data to the cloud has already begun. Many companies have reported plans to shift their data to the cloud, and some have already done so.
In October 2015, Netflix reported migrating from data centers to the public cloud, which will run all their IT operations. It will be ideal for their scaling architecture and will eliminate estimating the need for hardware, storage, and networking.
Companies are leveraging available cloud models such as SaaS (software as a service), which manages a company's platform and infrastructure at a remote server but at the same time increases the risk for end users.
Article continues below advertisement
Challenges companies are facing
Globally, data breaches will cost companies an estimated $2.1 trillion by 2019. Currently, cybercrime and espionage cost companies nearly $500 billion. End users expect their online information to be safe and secure. As more and more business processes and services move to the cloud, it will create a challenge for companies to keep their websites running without any security issues.
According to Cisco's 2015 Annual Security Report, the industry with the highest risk for malware encounters in 2014 was the pharmaceutical and chemical industry. Manufacturing, transportation, shipping, and aviation were among the top five for the first half of 2014.
The Power Shares QQQ ETF (QQQ) is a portfolio of 107 stocks. QQQ's top four stocks are Apple (AAPL), Microsoft (MSFT), Amazon (AMZN), and Google (GOOG), which make up 13.0%, 7.4%, 5.1, and 4.5%, respectively, of the ETF.