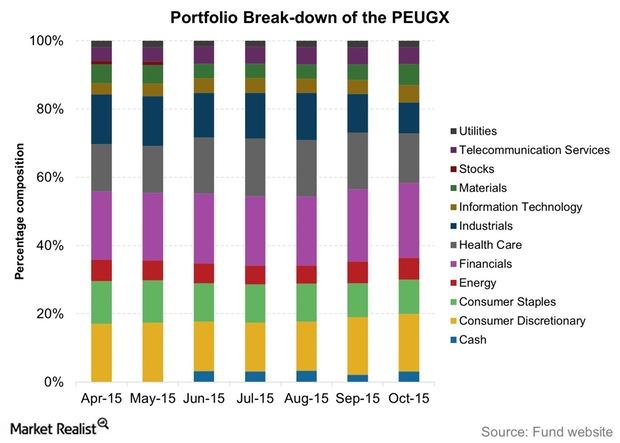 A Closer Look at the Portfolio of the Putnam Europe Equity Fund
By David Ashworth

Nov. 24 2015, Updated 1:15 p.m. ET
Putnam Europe Equity Fund
The Putnam Europe Equity Fund Class A (PEUGX) seeks to grow capital by investing "in established large and midsize companies across Europe that benefit from the region's economy and from operations in global markets." The fund's literature states that it can invest in either growth or value stocks. Fundamental research is essential to the fund's investment process, and the fund supplements fundamental research by making use of macroeconomic analysis and quantitative tools. The fund pursues Putnam's "blend" strategy, where it can invest in either growth or value stocks. This indicates that it doesn't have a style bias.
Article continues below advertisement
In the graph above, the sectoral composition for October 2015 from the fund house's website is shown. The fund's assets were spread across 73 holdings as of October 2015, and it was managing assets worth $385.5 million. As of the October portfolio, its top ten equity holdings included Total (TOT), Unilever (UN), ING Groep (ING), Anheuser-Busch InBev (BUD), and Credit Suisse Group (CS), comprising 11.6% of the fund's portfolio.
Historical portfolios
For this analysis, we'll be considering holdings as of September 2015 as that's the latest available sectoral breakdown we have. The holdings after September reflect the valuation-driven changes to the portfolio, not the actual holdings.
The fund's assets are spread across all ten sectors. Financials have maintained their status as the largest sector throughout the one-year period ended October 2015. Though the weight of that sector in the portfolio hasn't changed much, its composition certainly has. The sector has seen a lot of shuffling during the period.
Consumer discretionary stocks have continued to remain at the second spot over the course of the past 12 months. They make up ~17% of the portfolio now, as compared to ~14% a year ago. Like financials, the sector's composition has become different during this time. About 40% of the holdings have changed in the period.
Healthcare is at the third position. A year ago, however, consumer staples used to occupy that spot. On a year-over-year basis, exposure to healthcare stocks rose from 11.5% to 14.5%. However, the fund reduced exposure to the sector from 16.5% a month ago.
The fund's exposure to the energy sector is a bit high, at 6.4%, compared to its peers.
How has the fund's portfolio positioning impacted its returns? Let's look at that in the next article.